The Golden Palominos "Visions of Excess"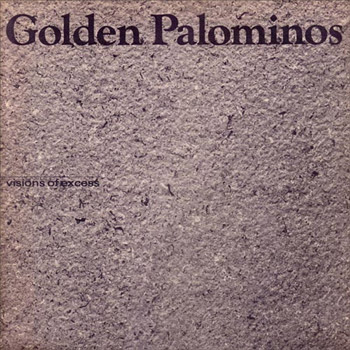 I must admit to a certain naivety when first picking this one out of a bargain bin some ten years ago. The artists' name and the album's title implied a retro country rock/psych crossover, perhaps "Son of Gram", though the cover art suggested otherwise. The album turned out to be a splendid art-rock artefact featuring a host of well-known names as guests, some of them operating well outside their usual parameters, and with a peculiarly timeless quality. I've played it several times recently and it still stands up twenty-five years after its release.
The Golden Palominos was a long-running musical franchise centred on former jazz-rock-fusion percussionist Anton Fier and bassist/producer Bill Laswell. The Palominos' first album was a genuine band debut and combined jazzy sensibilities with the semi-tuneless punk-funk experimentalism of the early eighties "no-wave" genre. For the follow-up, bandleader Fier dismissed all but Laswell and recruited guitarist Jody Harris to form a new core trio, around which he assembled a remarkable collection of guest vocalists and instrumentalists. Has any other album boasted a guest list of the stature and variety of Michael Stipe, Jack Bruce, John Lydon, Richard Thompson, Henry Kaiser, Carla Bley and Funkadelic's Bernie Worrell and Michael Hampton? This naturally resulted in a more approachable album with wider sonic and stylistic scope than the debut, though still packing the same punch.
All the tracks are powered by Fier's muscular drumming – with heavily gated snare, in the manner of the times – Laswell's elastic bass and Harris's scratchy rhythm. All but two songs are Fier compositions, mostly in partnership with Harris; of the two covers, one is a relatively straight take on the Grape's "Omaha" featuring Stipe on lead vocal, and the other is of Robert Kidney's howling "The Animal Speaks" for which Fier appropriately recruited John Lydon, who from his introductory belch onward gives one of his most corrosive performances ever. "Silver Bullet" is a throbbing update of the Bo Diddley rhythm with Jack Bruce on vocal and hypnotic harmonica, while "Clustering Train" has Stipe vocalising over a backing that sounds like REM on uppers, plus a fine wailing stadium guitar solo from Hampton. The one new name is that of Syd Straw, whose powerful contralto is further warmed by her own double-tracked harmony as she sings lead on "(Kind Of) True" and "Buenos Aires", the album's two most commercial offerings; Straw would become a featured vocalist on future Palominos releases. Thompson provides springy lead guitar on the Bruce and Straw songs and uncharacteristic screeches over the fadeout of the ferocious riff-laden opener "Boy (Go)", on which Stipe follows Lydon's noisenik template. Bley offers simple, soulful Hammond on the Straw songs and Worrell a more exploratory version on the harsher numbers. The comparatively restrained closer "Only One Party" reunites the core trio with original member Arto Lindsay on guitar and vocals. All in all, not all of this is easy music, but the whole rewards attentive listening.
Fier and Laswell continued to record as the Palominos with various guests and in various styles until 1996. Surprisingly, perhaps, given their limited appeal, most – if not all – of their releases still appear to be in print. Visions remains arguably the best of the series.
Audio clip: Adobe Flash Player (version 9 or above) is required to play this audio clip. Download the latest version here. You also need to have JavaScript enabled in your browser.
"Boy (Go)"

CD Reissue | 2001 | Import | buy here ]


Original Vinyl |  1985 | Celluloid | search ebay ]
Also Recommended