The Holy Mackerel "The Holy Mackerel"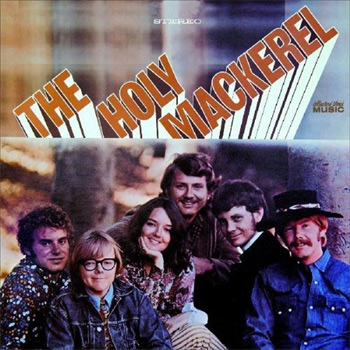 Paul Williams first pop group was the LA based Holy Mackerel.  While he would go on to greater success writing classic pop hits for Three Dog Night and the Carpenters, the music he recorded with the Holy Mackerel is more adventurous and psychedelic.  The group's only album was released by Warner Brothers in 1968.  While it wasn't a commercial success, the LP features some great material.
The best tunes on The Holy Mackerel are on par with great Millennium and Sagittarus tracks.  Sure, there's two or three weak tracks throughout the album but much of The Holy Mackerel is given over to quality stuff.  "Scorpio Red", "Wildflowers", "The Secret of Pleasure", "10,000 Men" and "1984" are excellent dreamy soft psych tracks.  "1984" is probably the album's magical highlight although "Wildflowers" features interesting distorted vocals and plenty of swirling sitar.  Many of the songs on the LP are psychedelic folk-rock but there's a few country-rockers ("Somewhere in Arizona" and "The Golden Ghost of Love"), pure folk ("The Lady is Waiting"), and bouncy Nilsson-like pop ("Bitter Honey") dispersed throughout ; these cuts are vintage late 60s LA pop.  There's a lot of ideas at work here but the group manages to pull it off, making The Holy Mackerel an artistic success.  Highly recommended to those who appreciate intelligent sunshine pop/soft psych sounds.
Now Sounds reissued The Holy Mackerel in 2010 with plenty of extras.  Also worth checking out is Paul Williams 1970 collaboration with Roger Nichols titled We've Only Just Begun.
Audio clip: Adobe Flash Player (version 9 or above) is required to play this audio clip. Download the latest version here. You also need to have JavaScript enabled in your browser.
"Bitter Honey"

Original Vinyl | 1968 | Reprise | search ebay ]


CD Reissue | 2005 | Collector's Choice | buy here ]
Also Recommended