The Human Beinz "Evolutions"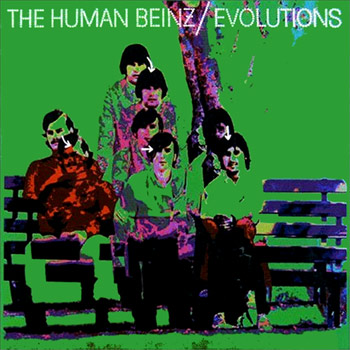 This Youngstown, Ohio band hit pay dirt in 1967 with their version of the Isley Brothers' classic "Nobody But Me."  The group featured Mel Pachuta (bass guitar), Ting Markulin (rhythm guitar), Mike Tatman (drummer) and Richard Belley (lead guitar).  Prior to Evolutions the group had released a split LP with the Mammals and a legit 1967 debut followup titled Nobody But Me.
Most of the Evolutions material was penned by producer Lex De DeAzevedo.  While the album is a bit self-indulgent in spots, overall it's a very classy garage psych platter; a wreckless landmark for the genre.  Only the mellotron speckled pop number "Mrs Applebee" sounds dated today.  The fuzz guitar instro "April 15th" and country-rocker "Two Of A Kind" are over the top psychedelic madness but in the best possible way.  The last few minutes of "Two Of A Kind" are devoted to the group destroying a piano in-house.  The rest of the lp is given over to short compact folk-rock numbers, psychedelic pop, and menacing garage punkers.
Evolutions opens with "The Face," an excellent psych pop track with production values (strings, horns, harpsichord and lots of fuzz) that are a good deal more sophisticated than the typical Human Beinz outing.  This cut sets the tone for the lp nicely and features a smooth mixture of acoustic and electric guitar textures.  The mellow numbers, "Close Your Eyes" and "Cement," are solid folk-rock cuts that hint at a softer, introspective side.  "My Animal,""I've Got To Keep On Pushing," and "Every Time Woman," are worthy gems that give lead guitarist Richard Belley ample breathing room to stretch out and produce some wicked fuzztone solos.  "Every Time Woman" along with Nobody But Me's "Flower Grave", may be the group's finest moment on vinyl.  This cut features blasts of lacerating fuzz guitar and neurotic punk vocals.  Behind Belley's fab fuzz work are the Beinz locked-in rhythm section, who whip up a storm here.  Out of control and unhinged, this performance is one of the all-time garage punk classics – mandatory listening.  Evolutions is a long way from the Human Beinz frat rock, soul influenced origins.  Listening to sounds from within and taking a quick glance at the album's fine cover art should tell you these guys were no longer fooling around.   It's a great album by an underrated band.
Evolutions has been reissued on cd several times (Ascension and Collectables Records are the best versions) and is relatively easy to score on vinyl.
Audio clip: Adobe Flash Player (version 9 or above) is required to play this audio clip. Download the latest version here. You also need to have JavaScript enabled in your browser.
"Every Time Woman"

CD Reissue | 2006 | Collectables | 2fer w/ Nobody But Me | at amazon ]


Original Vinyl |  1968 | Capitol | search ebay ]


Spotify link | listen ]
Also Recommended