The Kinks "Are The Village Green Preservation Society"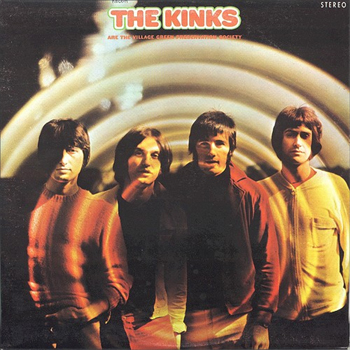 A Hall of Fame record, a go-to standby, the Kinks' magnum opus, and a lifelong friend. Village Green Preservation Society feels like an old vinyl record no matter how digital your copy. It's light and fun, wistful and teary, a beautiful definition of nostalgia in the form of Ray Davies' finest work.
VGPS followed the lovely Something Else by The Kinks and took its sound a step further, presenting a selection of songs loosely dedicated to a unified idea: preservation. Whether it be in personal reflection, a photograph, or the Village Green itself, Ray longs for another time in these songs. Do You Remember Walter says it nearly best: "people often change, but memories of people can remain." The line gets me every time.
The instrumentation features a wonderful small orchestra of happy acoustic guitar, woody drums, cheery backing vocals, and a handsome lot of subtle instrumental highlights. The songs are playful and imaginative, eternally catchy. The Kinks firmly embraced their Englishness with this album, and it sure can make an American boy feel envy! Village Green, perhaps the least accessible but prettiest, features a real orchestral string backing and brandishes a lovely chorus with pizzicato violin decorations. Other woodwinds and strings ornamenting the album are whirred from the famous Mellotron keyboard (see Phenomenal Cat).
The fold-out digipak reissue of VGPS is a dream package with 2 discs full of extra content that will surely please, but Kinks kollectors probably have much of it from rarity discs. Get this record if you don't have it, and if you already do, put it on. This is a masterpiece from one of rock's finest groups.
One of my favorite tracks, old-fashioned but sweet:
Audio clip: Adobe Flash Player (version 9 or above) is required to play this audio clip. Download the latest version here. You also need to have JavaScript enabled in your browser.
"All Of My Friends Were There"
[ Buy from Amazon
| Search eBay | The Golden Age of The Kinks ]
Also Recommended