The Kinks "Kinda Kinks"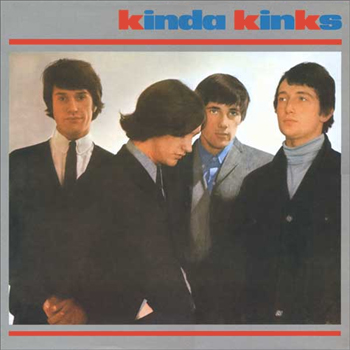 This is the first Kinks album where I love every song. When you really fall for a band, their formative material starts to gain new ground as you listen closer; you can hear the bedrock for the more developed music that would come. While the "Kinks" debut, which is loaded with cover versions, doesn't really do it for me, "Kinda Kinks" flat out kicks.
The punchy fill opening up Look For Me Baby (just listen to this song!!) kicks off an understated but growingly catchy Kinks klassic. As stripped down and simple as these early numbers are, they retain a sort of modest perfection. Ray Davies would add brilliant turnarounds, prechoruses, and bridges to string his multi-part compositions together in later works, but the simplified structures herein support the raw Kinks sound and energy present on each track (making even Dancing In The Street worth the ride).
Nothin' In The World Can Stop Me Worryin' Bout That Girl has become an important gem for the Kinks, overlooked by many until Wes Anderson's Rushmore popularized the track, as well as the Kinks, to a new generation. The liner notes to the Rushmore soundtrack suggest that the filmmakers considered scoring the entire film with Kinks tracks, which would have been fantastic (though the soundtrack as is would have been dearly missed).  So Long is a similarly acoustic wistful track (see Podcast 9) with that mellow side stick rhythm.
The guitar sounds on Kinda sincerely thrills me: a clangy, tinny, rambunctious mess, perfectly executed. Dave Davies was on top of his game. Come On Now, Shouldn't Be Sad, Got My Feet On The Ground are smokers. Something Better Beginning is another well received ballad, one of the tracks reviewers will cherry pick from this underrated album. It's not a mind blower, but it's a dam dependable slab of good solid music, benefiting from the developing skills of one of Britain's most celebrated groups.
Maybe you'll agree with critical reviews out there that the Kinks weren't making "cohesive" albums yet, but one great track after another the whole record through is cohesive enough for me.  The 2004 CD reissue of Kinda comes highly recommended, includes 11 excellent bonus cuts with many of the tunes available on Kinks-Size and Kinkdom, and restores the original UK track lineup. Unfortunately, you'll only find one track from Kinda Kinks (Come On Now) on the newly released Picture Book box set.
Audio clip: Adobe Flash Player (version 9 or above) is required to play this audio clip. Download the latest version here. You also need to have JavaScript enabled in your browser.
"Look For Me Baby"

CD Reissue | 2004 | Sanctuary | amazon
]


Original Vinyl | 1965 | Pye | search ebay ]
Also Recommended