The Klan "Join Us"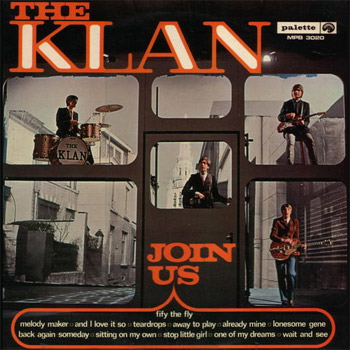 In America "The Klan" might have some negative connotations, but to a group of kids in Brussels in 1963 it sounded like the perfect band name (good enough to have chosen it over their original name "Los Ombres"). They soon began adding a disclaimer to their name, written as "The Klan (Belgium Band)," to prevent any further confusion.
Regardless of the cheeky title, The Klan were a wonderful baroque pop outfit with one exceptional full length LP to their credit. The songs on 1966's Join Us are incredibly musical and far more considered than the typical pop fair of the time.
Like most bands of the era, this record touches on all facets of the Beatles but mainly cops the folk rock shamble of Help! and Revolver, with heavy Harrison style vocals. The lush string/brass arrangements and studio effects occasionally take the record into mild psych territory, like on the gorgeous "And I Love It So" and "Already Mine" with it's vaguely eastern refrain. There's also a light flair for Spector-esque grandiosity here, with some songs aproaching the Brill Building style.
It's difficult to pick favorites from such a solid album, but some standouts include opener "Fify the Fly" which outshines its goofy subject matter with a pretty melody and a bouncy harpsichord line, and "One of My Dreams" which could easily have been a mid-period Harrison song.
With all the Beatles references aside, The Klan wrote some fantastic material and although they did not achieve much notoriety outside of their home country, these songs definitely deserve to be heard apart from their mid-60s context to truly appreciate the unique perspective on this record.
"Join Us" has yet to be reissued on CD, but LPs do turn up on eBay frequently (especially the 1967 Brazilian pressing).
Audio clip: Adobe Flash Player (version 9 or above) is required to play this audio clip. Download the latest version here. You also need to have JavaScript enabled in your browser.
"Fify The Fly"

Original | 1966 | Palette | search ]
Also Recommended