The Liberty Bell "Reality Is The Only Answer"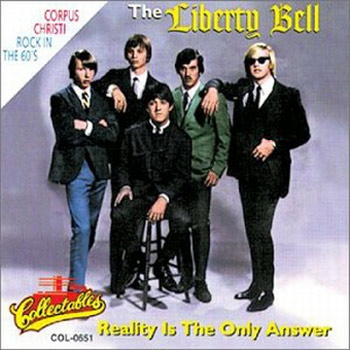 With the notable exception of the Zakary Thaks (both groups shared a similar sound and influence), the Liberty Bell were probably Corpus Christi's top rock n roll group. They were talented musicians who wrote fine, original material and played with a conviction and skill that most lack.  While the Liberty Bell never recorded an album, they released 5 excellent singles on the J-Beck and Back Beat labels.  Back in the mid 90's, Collectables issued a good compilation collecting all their singles and a couple of outtakes, titled Reality Is The Only Answer.  The sound quality and liner notes are iffy but the music is fine if underappreciated garage/psych.  Also, if you look hard enough, Reality Is The Only Answer can still be found for under $10.
The group started out life in Corpus Christi, Texas as the Zulus.  Upon manager/record label owner Carl Becker's suggestion, they changed their name to the Liberty Bell.   Their first single (J-Beck) was released in 1967 – a rocking cover of the Yardbirds' "The Nazz Are Blue."  The flip side was a fine, fuzzy take on "Big Boss Man."  This single met with some local success prompting Becker to release their second 45, "For What You Lack/That's How It Will Be."  Both sides of this 45, also released in 1967, are pounding slabs of prime garage punk that should have put the Liberty Bell on the map.  All the ingredients were there too, attitude, lots of fuzz guitar and an overpowering energy but no success.  Another track cut at the same session, "I Can See," is a brash garage number that's worth a spin as well.  Amazingly, these 3 songs were cut on one of the first eight-track machines available in the U.S.  Their third J-Beck single was a solid blues number ("Al's Blues") with strong guitar work.  This track was backed by another good garage pop number that probably should have been the A-side, titled "Something For Me."
In 1968 the Liberty Bell added ex-Zakary Thaks lead singer Chris Gerniottis to the fold.  That spring they went into the studio to record some tracks that would never be released.  "Reality Is The Only Answer," written by Chris, is perhaps the group's finest moment.  A scintillating acid punker, this cut features ferocious Keith Moon-like drumming and creative psych guitar effects – it's explosive.  That summer the group forged on, releasing "Thoughts and Visions" and "Look For Tomorrow."  These cuts were solid psych numbers with diverse influences ranging from the Small Faces to the Jefferson Airplane.  The Liberty Bell closed the year out with "Naw, Naw, Naw" and the superb fuzz laden psych B-side "Recognition."
Truly due for rediscovery.
Audio clip: Adobe Flash Player (version 9 or above) is required to play this audio clip. Download the latest version here. You also need to have JavaScript enabled in your browser.
"Reality Is The Only Answer"

CD Reissue | Collectables | at amazon ]
Also Recommended