The Litter "Distortions"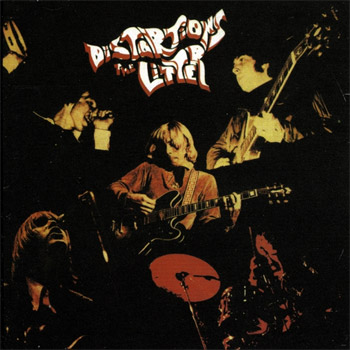 The Litter were one of Minneapolis' most popular garage bands. Their orgins can be traced back to two mid 60s garage bands, the Victors and the Tabs. In late 1966 the Litter recorded their first single, Action Woman backed by a cover of the Who's Legal Matter. The A side was not a Litter original but a Ted Kendrick composition. Ted Kendrick produced Action Woman which was eventually released off the Scotty label sometime in early 67.
From the intro, Action Woman is a flame thrower garage punk single with snarling vocals and one of the great extended guitar solos courtesy of Bill Strandlof. Many feel this single was one of rock n roll's finest ever and quite possibly Minnesota's answer to the Stones' Satisfaction. At this point the group were asked to record an album, since Action Woman enjoyed modest local success. Bill Strandlof recorded a great conventional garage track in Soul Searching (another Kendrick original) before he was replaced with Zippy Caplan.
Over the years the Litter's impact has dimmed, possibly due to the group's lack of original material and the recent excavation of other, newer great 60s rock rarities (which emphasize original material). With the exception of one brief guitar instrumental The Mummy and the above tracks, all of Distortions is padded out with covers of classic British Invasion singles. The group stumble when covering the Who's Substitute but give Legal Matter a good punky reading with some nice fuzz guitar breaks. I'm a Man is given the Yardbirds' treatment with tons of swirling feedback, thick guitar distortion, and insane white noise – this is one of the best versions I've ever heard! Codine displays some solid folk rock chops with powerful drum work and a slowed down arrangement. Somebody Help Me (Spencer Davis Group), Rock My Mind (Yardbirds) and What'cha Gonna Do About It? (Small Faces) are energetic and full of fuzz, angry vocals, driving guitars, and pummeling beats.
With the exception of Substitute, Distortions is a very good garage rock platter worth owning. In some ways Distortions is similar to another classic cover heavy lp, garage band T.C. Atlantic's Live At The Bel-Rae Ballroom. The Litter would go on to record two more lps before breaking up. Caplan would go on to record a very worthwhile early 70's hard rock lp with Lightning.
Audio clip: Adobe Flash Player (version 9 or above) is required to play this audio clip. Download the latest version here. You also need to have JavaScript enabled in your browser.
"I'm A Man"

CD Reissue | 1999 | Arf Arf | buy from amazon
]


Vinyl | 1999 | Get Hip | search ebay ]
Also Recommended