The Master's Apprentices "1965-1968"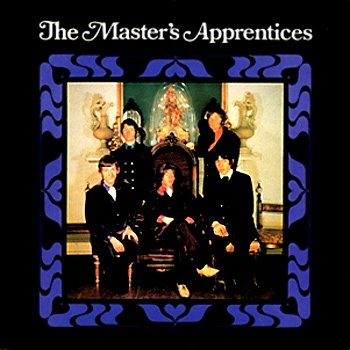 If the Easybeats were considered the Beatles of Down Under than the Master's Apprentices were surely Australia's answer to the Rolling Stones.  They released 5 records during their 65-72 heyday, including the above debut and their classic hard rock album, A Toast To Panama Red.  In between this period the group released a few unfocused but interesting lps and several good singles.  The Mick Bower era (65-68-) is usually considered the group's highwater mark, even though Panama Red is an excellent progressive hard rock album.
The Master's Apprentices started out in the mid 60s as the Mustangs.  This group played raucous RnB, covers of 50s rock standards, a few originals and some instrumentals.  Eventually the group would develop into something more original, under the leadership and guidance of guitarist/songwriter Mick Bower and vocalist Jim Keays.  In 1966 the group released their debut Astor 45 Undecided/War or Hands of Time.  The A-side was a powerful, raw RnB track that had cruching guitar riffs and a unique chord progression.  As great as Undecided was, War or Hands of Time was even better.  This unique anti-war track captured the original group at their peak with a powerful, reverberating guitar intro, hard hitting drum fills and a fractured acid solo.   Even today most Aussie rock aficionados agree that this was one of the most exciting singles to ever come out of Australia.  Their next Astor 45, released in 1967,  was Buried and Dead.  This was another classic single and one of the most explosive acid punk numbers ever recorded.  Mid way thru there's a strong punkoid psych solo although it should be noted that the flip side, featured on their debut album, is rather weak.
The debut, made up of Bower originals and a handful of covers was released in 1967.  Admittedly there are five weak tracks – She's My Girl, the feedback laden Beatles' cover I Feel Fine, Chuck Berry's Johnny B Goode, My Girl, and Don't Fight It.  The rest of the album is rock solid and full of driving garage rockers and early psychedelia.  Undecided, War or Hands of Time and Buried and Dead are all featured on the lp though Theme For A Social Climber and the raga influenced But One Day were strong psychedelic numbers too.  Hot Gully Wind is a razor sharp bluesy garage rocker that recalled Ireland's Them while Dancing Girl featured some slightly freaky guitar work that made it a worthy tune.  The good tracks (7 of them) were great, so based on this, the Master's Apprentice lp comes highly recommended.
The Masters would release two other classic 45s during the Mick Bower era.  In 1967 Astor released one of their biggest hits, Living In A Child's Dream.  This single hit the Aussie top ten and is often considered one of the greatest psych singles of all time.  There are no guitar freakouts or wild solos (though Rick Morrison's guitar solo is tasteful and imaginative), it's a mellow, spacey pop tune with flower power lyrics and a radio friendly sound.  The single's B-side, Tired Of Just Wandering was another great Bower penned psych track.  In 1968 the group released Elevator Driver.  By then both guitarist Rick Morrison and Mick Bower had left the group.  Bower leaving the group was equivalent to Syd Barrett exiting the Floyd: nobody thought the Masters would recover such a devastating blow.  Against all odds they released their last great early 45 and to these ears it may edge out Child's Dream as the better single.  Elevator Driver was originally titled Silver People and is another ace psychedelic track with vocal distortion and a good guitar friendly arrangement.  Ascension released a great cd back in 2000 that combines the Master's first lp with all their early singles.  True, there are a few weak tracks and the disc is rather hard to find but it's a great buy from one of rock's lost bands.
If you're into the Pretty Things, Outsiders or Q65, the Master's Apprentices' 1965-1968 is absolutely mandatory listening.
Audio clip: Adobe Flash Player (version 9 or above) is required to play this audio clip. Download the latest version here. You also need to have JavaScript enabled in your browser.
"Buried And Dead"

CD Reissue | search amazon
]


Orig Vinyl | 1967 | Astor | search ebay ]
Also Recommended