The Music Machine "The Bonniwell Music Machine"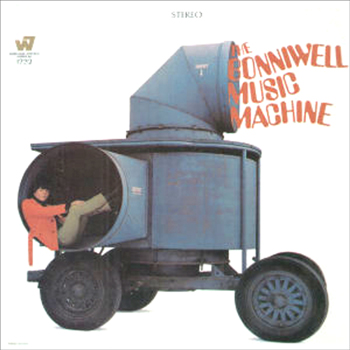 Fans of garage and psych are probably familiar with this LA band of Talk Talk fame. Sean Bonniwell and the Music Machine released two records and a plethora of quality outtakes and are sadly remembered, if at all, for their sole hit record, Talk Talk.
The Music Machine covered themselves in black and played a grinding, relentless form of experimental garage rock.
Their music was full of tension and uneasiness, and many consider Bonniwell a tortured genuis.
Sean Bonniwell is really one of the grandfathers of punk rock. Rock critics and fans alike often forget how good the original band was. Talk Talk's follow up was the brilliant People In Me which barely dented the charts and in early 66 Bonniwell unleashed Point of No Return, a track with a swirling mass of organ and futuristic blasts of guitar.
The Bonniwell Music Machine album above was recorded mostly with the original lineup who had recorded the 1966 debut. That debut was sabotaged, managers and producers forced Bonniwell to fill half the record with cover versions of current popular hits. Stellar originals battled it out with covers of Neil Diamonds' Cherry Cherry and a respectable gutsy stab at Hey Joe. Their second album was released in 1967 and was a small victory for a band who had fought for absolute creative control. The recording sessions were tension fuelled wars between management, Bonniwell, and the band. Eventually, the band left Bonniwell, feeling that he sided with management and ruled with an iron fist. Bonniwell Music Machine saw the band forge ahead and move beyond their garage roots.
The most popular song off the album, Double Yellow Line, was a real flame thrower, supposedly written while Sean was behind the wheel driving to the recording sessions! It was a unique statement that featured Bonniewell's rants and hangups over some razor sharp guitars, a killer beat and strange fish bowl-like organ. Talk Me Down, Bottom of the Soul and the Eagle Never Hunts the Fly were just as vital and displayed Bonniewell's alienation in spades. The Eagle Hunts was a monstrous, intense rocker with a wonderful fuzz meltdown that was supposedly disowned by the band during the recording sessions. Other strange pop songs like the psychedelic harpsichord-laden, harmony-rich Trap were a welcomed change in direction. Absolutely Positively was a fantastic fist pounding garage-punk anthem and Discrepancy was notable for two distinct vocalizations.
It's always great to see a garage band enter the studio stoked about the possibilities of recording and come out creating their acid punk masterpiece. Bonniwell was definitely a rock star in his own mind, making this record their definitive statement. In 1969 Bonniewell would take a drastic left turn and release Close, a solo album of crooner pop that showed little signs of the Music Machine's past glories.
Audio clip: Adobe Flash Player (version 9 or above) is required to play this audio clip. Download the latest version here. You also need to have JavaScript enabled in your browser.
"Double Yellow Line"
Their brilliant 1966 single:
Audio clip: Adobe Flash Player (version 9 or above) is required to play this audio clip. Download the latest version here. You also need to have JavaScript enabled in your browser.
"Point Of No Return"
[ it's called Way Beyond Garage @ amazon
| search eBay ]
Also Recommended