The Rising Sons "The Rising Sons"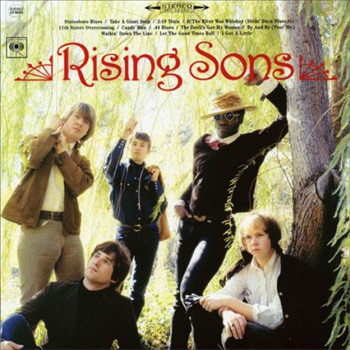 The Rising Sons seem to have done things backwards. Built around Taj Mahal, Ry Cooder, and Jesse Lee Kincaid (whose 'She Sang Hymns Out of Tune' would later find its way onto records by Nilsson, Hearts and Flowers, and the Dillards), the band would certainly have been deemed a supergroup had it gotten its act together a couple of years down the line. As it stands, the band first made a name for itself on the hip side of the Los Angeles folk scene before eventually finding its way into the studio with producer Terry Melcher, fresh from his success with the Byrds. Though these recording sessions would ultimately lead to the demise of the band, they yielded a strong, if scatterbrained, collection of blues-oriented folk-rock – excellent music that would unfortunately remain unreleased for over thirty years.
Though a compact disc of the band's recordings was compiled in the late nineties, it was put together as a historical or archival release, and as such, was a little messy in its presentation (a handful of the cuts featured new, overdubbed vocals by Taj Mahal). Fortunately, however, Sundazed Records has recently taken matters into their own hands and pulled off a beautiful restoration job, putting together twelve of the leanest cuts from that mid-sixties session and releasing what they think the first Rising Sons record would have been like, had it actually seen daylight. Even the artwork on this release has been carefully and lovingly designed to look like a vintage record jacket.
The album opens with "Statesboro Blues," the Blind Willie McTell standard, and a barreling take on the Monkees tune "Take A Giant Step." Both songs would later be re-cut by Taj Mahal in arguably superior arrangements, but the sides here have a brash recklessness to them that's both engaging and refreshing. Cooder's slide guitar and Kincaid's twelve-string are all over the place, buzzing around the songs and really propelling above your usual late-sixties fare. When the band sets aside the fuzz tones and brings out the acoustic instruments on "The 2:10 Train," it's extraordinary to hear how beautiful the Sons can sound when they put their minds to it. Linda Albertano and Tom Campbell's folk ballad positively dances here, and is as laid back as the earlier cuts are furious, gesturing towards the road Taj would soon take with Jesse Ed Davis and beyond.
If you dig the later work of any of the members involved, or are simply looking for a righteous slice of Los Angeles folk rock, the Rising Sons album delivers. The band manages to deliver an eclectic range of Americana with the perfect blend of rock and roll attitude and musical traditionalism. If it all sounds a little wild and messy, it comes with the territory – this stuff is the real deal. Dig.
Audio clip: Adobe Flash Player (version 9 or above) is required to play this audio clip. Download the latest version here. You also need to have JavaScript enabled in your browser.
"Take A Giant Step"

Vinyl Reissue | 2001 | Sundazed | buy here ]


Spotify link | listen ]
Also Recommended