The Scruffs "Wanna Meet The Scruffs?"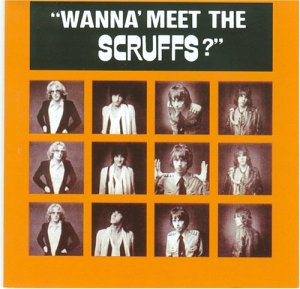 The Scruffs were a late 70s power pop band who released this great debut album in 1977 (off the Power Play Records label).  Even though the Scruffs looked like a group of hip New Yorkers they actually hailed from Memphis, Tennessee. All 13 tracks were written by guitarist Stephen Burns though lead guitarist Dave Branyan gets partial credit for three numbers.  Other important members of the Scruffs included bass player Rick Branyan and drummer Zeph Paulson.
The Scruffs sound is similar to Big Star (especially their great sophomore effort), wild, careening and reckless with neurotic lyrics about masturbation, boy-girl relationships and teen alienation.   While the playing may come off as sloppy it's still engaging and in a weird way calculated – these guys were a pretty tight group who knew exactly where they wanted to take their music.  Tracks like "Break The Ice," "This Thursday," and "I've Got Something" are relentless, loud rockers that cut like a sharp switchblade but remember this was 1977, the punk era.  Most of the other tracks are anchored down by ringing guitars, great hooks, and vulnerable, heart broken vocals; in fact, every song on Wanna Meet The Scruffs has something on offer, whether it be a catchy guitar riff, stinging solos, or an anthemic chorus.  "My Mind" and "She Say Yea" were influenced by the Beatles and Byrds but also early 70s American power pop greats like the Raspberries and Big Star.  Those two tracks are all-time power pop classics but other numbers like the album closer "Bedtime Stories" isn't far behind with its beautiful intro and timeless melodies – these are magical songs.  Also, many tracks wield an uncompromising sense of humor with strange lyrics like "Im a failure and my entire life was meant for killing time" (from "I'm A Failure") or  "Dear Jean, all I ever wanted from you was a little revenge and your phone number" (from "Revenge").  This music is elegant but at the same time shambolic, and while phoney, manufactured groups like the Knack and Rubinoos completely disappoint, the Scruffs were the real deal, delivering 13 fine, romantic power pop tracks.  Wanna Meet The Scruffs is ace from start to finish, making it one of the best lps from 77.
Rev-Ola records did a nice straight up reissue of Meet The Scruffs back in 2002, no significant bonus tracks though, just a couple of alternate takes.  They would record material for a second album but these tracks would not see a release till the late 90s (Teenage Girls) and while good, are not up to par with the songs on Wanna Meet The Scruffs.  A true classic.
Audio clip: Adobe Flash Player (version 9 or above) is required to play this audio clip. Download the latest version here. You also need to have JavaScript enabled in your browser.
"She Say Yea"

CD Reissue | 2002 | Revola | buy at amazon ]


Original Vinyl | 1977 | search ebay ]


Spotify link | listen ]
Also Recommended