The Shaggs "Philosophy of the World"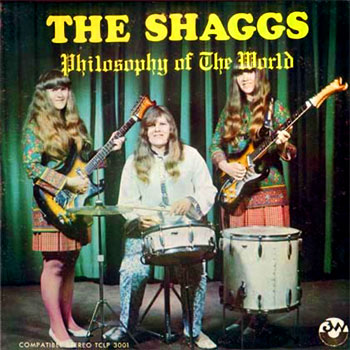 Three teenage sisters from New Hampshire, Dot, Betty, and Helen Wiggin, were pushed by their father to form a band and in 1969 they recorded the ultimate outsider album, Philosophy of the World. Both Frank Zappa and Kurt Cobain have cited it as a fave.
Immediately it sounds unlistenable, but soon it's hard to stop – like rubbernecking at a car wreck. The Shaggs' approach comes from way beyond, seemingly informed by nothing. Their music is profoundly unique, sincere, and captivating.
The "problem" with the music is the drums are plainly out of sync with the guitar and vocal.  But you can't blame the drummer, Helen, whose oft-recycled, go-to drum fill hits the spot every time.  Dot Wiggin's guitar and lead vocal melodies have a natural lean to complex and disorganized time signatures; I'd bet even the best free jazz drummers couldn't keep up.  Ultimately what emerges in my mind is a picture of sibling rivalry: Dot wants Helen to follow her rambling leads, and Helen just wants her sisters to come back to the planet and adhere to some semblance of a 4/4 beat.
The songwriting is strange, but at times poignant, as in "Why Do I Feel" (listen as Betty the rhythm guitarist and Helen the drummer finally sneak in a few bars of beat-matched tempo during the intro) and "Who Are Parents?" a heartbreaking, beautiful mess of a song.  "My Pal Foot Foot" is a bizarre piece, presumably about the family dog. "I'm So Happy When You're Near" comes to a lyrical crescendo when they loudly proclaim "sometimes I think we are completely insane!"
Philosophy of the World is raw, abrasive, and weird, but absolutely must-hear. Especially recommended in small doses.
Audio clip: Adobe Flash Player (version 9 or above) is required to play this audio clip. Download the latest version here. You also need to have JavaScript enabled in your browser.
"Who Are Parents"

CD Reissue | 1999 | RCA | buy at amzn ]


Original Vinyl | 1969 | Third World | search ebay ]
Also Recommended