The Small Faces "There Are But Four Small Faces"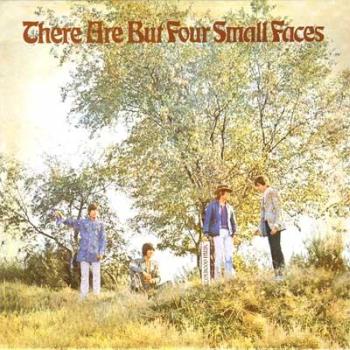 As it has been said many times before, The Small Faces were, undoubtedly, one of Britain's most influential rock bands.  Despite being together for only four years in their original incarnation, The Small Faces have gone on to be remembered as one of the most important British bands of the mod/psychedelic era.  Combining the best-of-the-best American soul and R&B and their own special brand of British Beat (and later, psychedelic rock), The Small Faces were definitely unique.  And what is there to say about Steve Marriott that hasn't been said before?  In many peoples' opinions, he was the greatest rock & roll singer who ever lived.
1967's There Are But Four Small Faces holds a special place in my record collection.  Unlike some albums of the same era, this album has held up well without sounding too dated.  Side one kicks off with the flower power classic "Itchycoo Park".  With its use of tape effects and flanging, it was a song that sounded totally out of this world at the time of its release.  It was also the only major US hit The Small Faces would enjoy in their brief career, reaching a respectable #16 on the Billboard Hot 100.  There was so much more to this band worthy of "hit status" than just that song, though.
"I Feel Much Better", which closes side one of the LP, contains one of the very first "breakdowns" in hard rock.  The end of the song closes with such power and intensity that it leaves the listener begging for more.  We weren't used to that much power in a rock song until about two years later when a little band called Led Zeppelin exploded on the music scene.  "I Feel Much Better" was ahead of its time. Side two starts off with one of the most powerful songs ever recorded, "Tin Soldier".  Originally written for singer PP Arnold (who is heard singing back-up vocals on the track), "Tin Soldier" is a song about unrequited love (and not a sappy one, at that).  Steve Marriott sings this with such fiery passion that it sounds like a man ripping his heart out of his chest, putting it on his sleeve, and begging to be loved by the woman of his dreams.  A masterpiece.  There are very few songs which have made some sort of a spiritual impact on me, but this is definitely one of them.  Listening to "Tin Soldier" is a near religious experience.
"Here Come The Nice" is another lost psych gem.  A drug-influenced song, for sure, it's about a dealer who's apparently "always there if you need some speed".  But, if not for the obvious drug references, "Here Come The Nice" had the potential of being another big hit single, based on its catchiness alone.
Steve Marriott went on to form Humble Pie, and Rod Stewart was brought in to the Faces as his replacement where they enjoyed continued success.  To many, however, nothing compared to the Marriott-era Small Faces.  The fact that the Rock & Roll Hall Of Fame has neglected to induct this legendary and important band is an atrocity.  Much has been written about the history of this band and its members; the internet is full of information.  If you have the spare time, read up about them…very interesting band.
If you've never heard The Small Faces, I'd definitely suggest to start here.  You can't really go wrong.  To fully appreciate this band, though, one must seek out their entire discography.  Trust me, you won't be disappointed.  You may have a new favorite band on your hands.
Audio clip: Adobe Flash Player (version 9 or above) is required to play this audio clip. Download the latest version here. You also need to have JavaScript enabled in your browser.
"I Feel Much Better"

Original Vinyl | 1967 | Immediate | search ebay ]


CD Reissue | 2006 | JVC Japan | buy here ]
Also Recommended