The Souther-Hillman-Furay Band "Trouble In Paradise"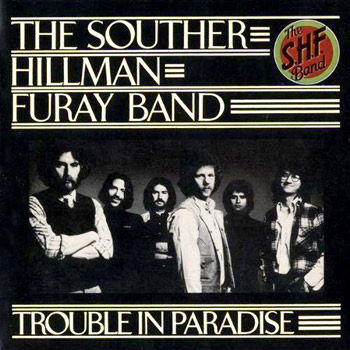 The Souther-Hillman-Furay Band was pulled together by Elektra/Asylum supremo David Geffen to be, as one critic described it, "a country Crosby, Stills & Nash" (notwithstanding that CS&N had plenty country roots of their own, cf. "Teach Your Children"). More likely, Geffen set out to cynically rehash his previous Frankensteinian creation, the Eagles, at a time when the latter had mutated from an honest country-rock quartet into an intolerably precious stadium-rock act. SHF would follow the same path, but on a drastically shortened timeline and with conspicuously less success, as tensions immediately mounted between the three talented but mismatched principals: the reclusive, sensitive Souther, the hard-living, hard-boozing Hillman and the born-again evangelist Furay, not to mention ill-fated schizophrenic drummer Jim Gordon. Sometimes the whole just isn't greater than the sum of the parts.
SHF's eponymous debut from 1974, breezily labelled "Greetings from Glamour City", had turned out to be a reasonably satisfying, if by then somewhat dated, LA country-rock trip comprising unspectacular but mostly upbeat songs from all three principals, the whole elevated by their scintillating three-part harmonies plus honey-sweet pedal steel and scorching lead guitar from Al Perkins and inspirational piano and Hammond from Paul Harris, all mixed gratifyingly upfront. Their second effort a year later would be a very different animal, its title instantly giving the lowdown: now the songs were subdued and pessimistic, symbolising the tensions in the band and reflecting the same disillusionment with the sleazy Los Angeles scene evinced in the Eagles' contemporaneous Hotel California. The accompaniment was considerably stripped down, with Perkins mixed much further back and most tracks carried by Harris's plaintive piano. In place of the garish, solarised band portrait on the debut's elaborate gatefold sleeve, the follow-up offered simple, sombre, Bible-black artwork. The faces tell the story; even Richie Furay's ubiquitous smile is wry and forced. Needless to say, the album faltered chartwise and the inevitable breakup followed in short order. SHF's entry on Wikipedia is one of the briefest on record.
Yet for all this, to me Trouble In Paradise is still a rewarding listen. The songs themselves are better than those on the debut, Souther's in particular being more expressive and explorative, and the Big Three rely less on the stellar talents of their sidemen to raise the quality. The self-explanatory title track features untutored but amazingly confident drumming by Souther himself, and its centre section moves unerringly into a jazz groove with immaculate flute and Fender Rhodes from Harris; the "gold plated room" motif consciously echoes Gram's classic "Sin City" theme. "Mexico" sets its tale of infidelity and guilt against an exquisite faux Norteño accompaniment, decorated with Hillman's shimmering mandolin and offering superb mariachi harmonies in the middle eight. "Follow Me Through" allows Perkins and Harris to stretch out briefly and funkily, and could almost have been lifted from a Manassas album. Ironically, a cover of the gorgeous, keening "Prisoner In Disguise" would headline Linda Ronstadt's immensely successful next album.
Perhaps the tensions and prevailing bad atmosphere perversely instigated an unexpectedly strong work; after all, there were numerous precedents for this, not least the Fabs' Abbey Road and the Stones' Beggars' Banquet. None of the three SHF principals would ever again produce genuinely first-division product (unless you consider Hillman's Desert Rose stuff to be in that bracket, which I don't), but this isn't a bad valedictory effort.
Audio clip: Adobe Flash Player (version 9 or above) is required to play this audio clip. Download the latest version here. You also need to have JavaScript enabled in your browser.
"Mexico"

CD Reissue | 2002 | Wounded Bird | at amazon ]


Original Vinyl | 1975 | Asylum | at ebay ]


MP3 Download | at amazon ]
Also Recommended