The Stained Glass "A Scene In-Between 1965-1967"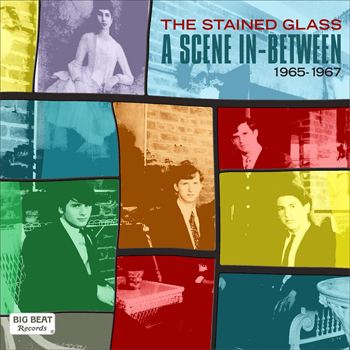 The Stained Glass hailed from San Jose CA, the same scene that spawned 60s garage heroes the Chocolate Watch Band, the E-Types and the Syndicate of Sound. Being 45 minutes outside of San Francisco, it was inevitable that the Stained Glass would rub shoulders with and even play on the same bills with many of the region's big name acts. Chief songwriter and guiding light Jim McPherson would even go on to play in John Cipollina's early 70's post Quicksilver band Copperhead. The music heard on A Scene In-Between 1965-1967 suggest that had things gone right for the Stained Glass, they could have been – should have been – serious contenders.
The Stained Glass started out life in 1964 as a raw folk-rock, British Invasion influenced outfit called the Trolls. The group's story began with Jim McPherson (bass) answering guitarist Rodger Hedge's local advertisement to form a band.  Drummer Dennis Carrasco joined by way of recommendation, followed by lead guitarist Bob Rominger.  The group's earliest songs, all originals mostly written by Jim McPherson, were an impressive lot. "Walking Shoes", the Trolls only 45 (Peatlore) is a superb folk-rock track with a raw, garage feel – by far their hardest rocking early number and a track often championed by garage rock obsessives. "How Do You Expect Me To Trust You" (45 flipside) and "Sweeter Than Life" compare favorably to what the Beau Brummels were recording around the same time in that they are lyrical, downbeat folk-rockers with strong melodies and a mystical edge. "Such Good Friends," "She's Not Right" and "No Rhyme or Reason" were a nod to the Trolls' British Invasion influences – all are giddy, driving numbers that compare favorably to the early Zombies or Kinks work from around the same time (circa 1965/1966). Jim McPherson's songwriting, the group's excellent harmonies and tight ensemble work separated them from countless other regional groups.
From 1966-1967, around the time the group changed their name to the Stained Glass, was when McPherson (and the group) recorded some of their finest material. In 1966, the group travelled to Columbia's Sunset Boulevard Studios to audition for the label.  They recorded a few gems which ended up being shelved. "Lonely Am I" is a worthy minor key Zombies influenced gem but it was the devastating "Broken Man" that really catches the ear.  "Broken Man" stuck out for it's well written, enigmatic lyrics, unique chorus and proto psychedelic guitar solo which was innovative for the time.
The Columbia deal didn't pan out which led the group to RCA Victor. Here, they recorded and released a fine version of the Beatles' "If I Needed Someone" (before Rubber Soul had hit the market) backed by a recut of "How Do You Expect Me To Trust You."  This single flopped and the Stained Glass gave it another go. "My Buddy Sin" backed by an underrated Kinks-like "Vanity Fair" (think "Dedicated Follower of Fashion") was superb but somehow failed to connect with music fans. "My Buddy Sin" was one of the group's true classics; the back bone of the song is harmony pop but the harmonica flourishes give it a rootsy folk-rock flavor that recalls some of the Byrds best mid 60s tracks. The band was disappointed with the outcome as they did not want harmonica added to the single but it's interesting to note that the harpsichord intro was played by Jim. The songwriting on "My Buddy Sin" was once again interesting (religious imagery) and ahead of its time. When "My Buddy Sin" failed it did little to the group's confidence as they were getting plenty of live work and making lots of money.  For their next 45, RCA Victor forced the Stained Glass to record a catchy Barry Mann/Cynthia Well offering. "We Got A Long Way To Go," was a big hit locally and notable for it's catchy melody and stinging distorted guitar solo.  It was more in vein with the Turtles pop sound, which wasn't really where the Stained Glass stood from an artistic standpoint.  At around this time the group were in the studios, recording music that was more in line with Moby Grape, Buffalo Springfield and the Beau Brummels.  "Inside Ouch" a fine balance between soul and folk-rock, would have fit comfortably on Buffalo Springfield's debut.  The outstanding "Dollar Sign Friends" is a driving jangle rock track with defiant lyrics, which were written by Bob Rominger while "Second Day" was the kind of lyrical folk-rock that could be found on Moby Grape's debut classic.  A latter recording session yielded two cuts that ended up being issued as a 45 in 1967, the bizarre "A Scene In-Between" and the pure pop of "Mediocre Me."  Both songs are minor psychedelic pop classics and represent a high point for the Stained Glass.  During this session they also recorded two other fine tracks, "Bubble Machine," a vibrant piece of sunshine pop with echoplex guitar, shimmering bells and keys and the morbid "Mr Martyr."  The latter track once again featured unique lyrics and superb harmony vocals.
From here the anthology ends although the Stained Glass would go on to record two albums in the late 60s, the excellent Crazy Horse Roads from 1968 and the disappointing Aurora from 1969.  A Scene-In Between 1965-1967 is a much needed overview of this great lost American band.  This is easily one of the best 60s reissues of 2013 and it goes without saying that this disc is mandatory listening.
mp3: My Flash On You
mp3: Broken Man
mp3: Dollar Sign Friends

Reissue | 2013 | Ace Records | get it here ]
Also Recommended