The Tree People "Human Voices"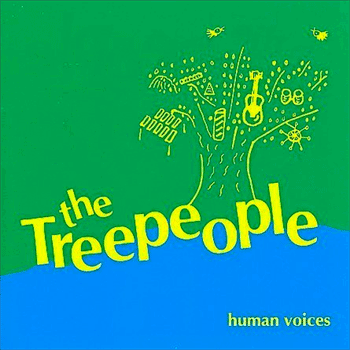 Human Voices, the Tree People's second album from 1984, is a solid dose of American folk-rock.  The group hailed from Eugene Oregon, releasing their debut LP in 1979.  Human Voices was a limited edition cassette only release, of which only 300 copies were pressed.  Stephen Cohen (guitar and voice), Jeff Stier (recorder, flue, bells and percussion) and Denis Mochary (drums) recorded the album at The Recording Arts Center.  It's an album that sounds wonderfully out of step with the post-punk times.
Allmusic.com refers to the album as a "mini gem" while psychedelicfolk.com notes that Human Voices is "a very strong album, that should be regarded as a classic for the genre."  A few songs, such as the album opening title track, have an English folk influence (early 70s) but the rest of this LP is original American folk/folk-rock music.  Highlights include "Grandfather," a moody singer-songwriter number, "Thomas," a great, ahead of its time indie sounding composition, the freeform "If That's Entertainment" and a superb folk instrumental titled "Opus III," which delves into spacy soundscapes.  Human Voices is evenly divided between instrumentals and vocal arrangements.
Guerssen Records, a reissue company based in Spain, reissued this very impressive title on vinyl and cd – it's well worth a spin and highly recommend to those who are into freakier folk sounds.
Audio clip: Adobe Flash Player (version 9 or above) is required to play this audio clip. Download the latest version here. You also need to have JavaScript enabled in your browser.
"Thomas"

Reissue | 2009 | Guerssen Records | search ebay ]


Reissue | 2009 | Guerssen Records | get it here ]
Also Recommended