The Ugly Ducklings "Somewhere Outside"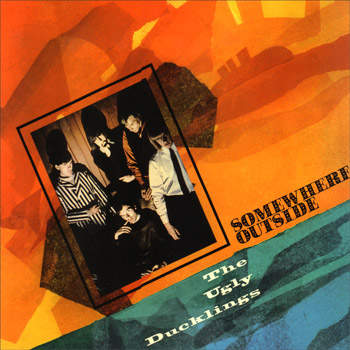 The Ugly Ducklings were one of Canada's finest garage bands throughout the 60s. They were also one of Canada's longest lived garage groups, releasing 3 lp's (two of them reunion lps) and numerous non-lp singles. The core group consisted of Dave Bingham (vocals), Roger Mayne (lead guitar), British-born Glynn Bell (rhythm guitar), John Read (bass) and Robin Boer (Drums). Early on they were a Rolling Stones tribute band calling themselves the Strolling Bones.
In the summer of 1966 they secured a residency at Charlie Brown's Place in Yorkville, Toronto and were given the opportunity to record their debut single, Nothin'. Reportedly the single was cut for $300 and released off Fred White's Yorktown label. Today, Nothin' is widely recognized as a garage classic notable for it's snotty vocals, snarling defiant edge and frantic guitar solos. Nothin' did well locally and enabled the band to record the above album, Somewhere Outside. The album, put out by Yorktown in 1966 is a gem with only 2 covers and plenty of fine originals in the Rolling Stones/Pretty Things tradition. One of the covers, Hey Mama Keep Your Big Mouth Shut is a blistering rocker with loads of fuzz guitar and punky vocals from Bingham. Some of the tracks are more restrained beat numbers but good ones; check out Not For Long and That's Just The Thought I Had In My Mind. Along with Nothin' the album's better cuts are 10:30 Train (a fuzzy blues rocker), Windy City (a 6 minute instrumental with good guitar work and sound effects), and Just In Case You Wondered. The latter track is another classic full of punishing fuzz guitar riffs and a crazed, mind melting guitar solo. The album is very strong throughout and highly recommended to fans of mid 60s garage rock.
The group also managed to released some fine non-lp singles throughout the 60s. Gaslight, released in 1967, was their biggest hit and a good mixture of garage-pop and psychedelia. Also that same year they released the Epilogue/I Know What You Say single. The a-side is an acoustic number while its flip is a decent foray into psychedelic pop notable for its sitar work and swirling backwards tapes toward the end. The Ducks also have some respectable outtakes from the 60s which include a good hard rock version of I Wish You Would.
There have been numerous reissues of Ducks' material on cd and vinyl throughout the years. There is a good cd version of the above album by Unidisc but does not include any bonus tracks. Also worthwhile is a self-titled compilation (with a humorous cartoon ducks album cover!) with choice tracks from the 66 album, outtakes and all the non-lp singles.
Can anyone provide info on the Ugly Ducklings' 1973 ep?
Audio clip: Adobe Flash Player (version 9 or above) is required to play this audio clip. Download the latest version here. You also need to have JavaScript enabled in your browser.
"Not For Long"

CD Reissue | 2001 | Yorktown | buy from amazon
 ]


Original Vinyl | 1966 | Yorktown | search ebay ]
Also Recommended