The Watersons "Bright Phoebus"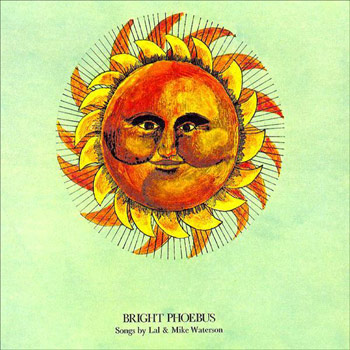 The Watersons are to English folk what the Carter Family are to American Country & Western music, an institution. Bright Phoebus is the white elephant in their great catalog, an album of original material (not one traditional cover amongst its 12 songs!!).
Mike and Lal Waterson wrote these compositions and trade off vocal duties throughout the album. A superstar cast of musicians (Martin Charthy and Richard Thompson handle guitars and backup vocals) assist them throughout, creating what some have called the Sgt. Pepper of the English folk scene.
Bright Phoebus was released in 1972, though I believe many of these songs were recorded in the late 1960's – I am not positive on recording dates. The album itself, is very warm and eclectic, encompassing a variety of styles such as psychedelia, rock, folk, country, and rockabilly. All these styles are filtered through a unique English sensibility which gives the record originality and origin. There are some great acid folk/folk-rock moves in the album opener, Rubber Band, which has some of the strangest lyrics this reviewer has ever heard. This song is followed by the enchanting Scarecrow, a pastoral acid folk song sung by Mike Waterson which is absolutely marvelous. Magic Man is another good acid influenced number with some playful childlike lyrics and bouncy percussive sounds. Fine Horsemen is a very serious folk song with some beautiful singing by Lal and a excellent string arrangement.
The album ends with Bright Phoebus, an upbeat country ditty that brings great promise and optimism to a very serious folk-rock masterpiece. It's one of the highlights of this great record, which never makes all-time album lists but surely deserves to!
Audio clip: Adobe Flash Player (version 9 or above) is required to play this audio clip. Download the latest version here. You also need to have JavaScript enabled in your browser.
Only Available in UK
Also Recommended