The Who "Magic Bus"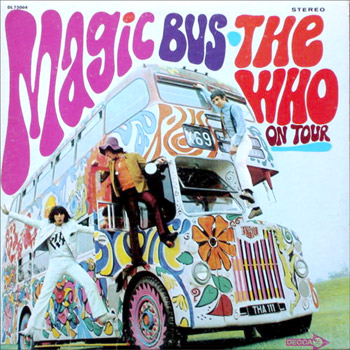 My Take:
The Who's Magic Bus album was released in 1968 with the misleading "On Tour" title. Magic Bus is not a live album by any means and was released to keep Who fans satisfied while they anxiously awaited 69s Tommy. But it also made Decca a few dollars and is similar in concept to the Stones' Flowers and the Small Faces' excellent From The Beginning lp.
Magic Bus was made up of prior singles, b-sides, ep tracks and the like – all dating from around 66-67. Run Run Run, I Can't Reach You and Our Love Was, Is had all made appearances on prior lps and are good pop tracks. Run Run Run is a thundering mod rocker with great guitar leads from Townshend and stunning bass work from Entwistle. Other tracks like Pictures of Lily, Disguises and Doctor, Doctor represent some of the Who's better early work, then known as pop-art. Most of these songs are great catchy power pop tunes (a term Townshend coined back in 66) that show Townshend's mastery of feedback and guitar noise. Other notable tracks are Dr. Jekyll & Mr. Hyde (an Entwistle original of course), perhaps the strangest Who recording of all, whilst Call Me Lightning is solid mod pop.
My feeling is that they could have nicked off two shitty tunes (the Keith Moon sung Bucket T. sucks) and lifted Run Run Run, I Can't Reach You and Our Love Was, Is and added recent singles/b-sides like Dogs, I'm A Boy, Substitute, Anytime At All and Circles to come up with a really good lp. From 1964 to 1974 the Who were one of the great bands, Townshend and co were always trying different ideas out in the studio and stretching rock's boundaries as far as possible. Nowhere near as good an album as My Generation, Sell Out, or Tommy, Magic Bus still has moments of brilliance.
Your Take?
Audio clip: Adobe Flash Player (version 9 or above) is required to play this audio clip. Download the latest version here. You also need to have JavaScript enabled in your browser.
"Disguises"

CD Reissue | 1999 | MCA | mini LP sleeve | buy @ amazon ]


Original Vinyl | 1968 | Decca | search ebay ]
Also Recommended