The Who "Sell Out"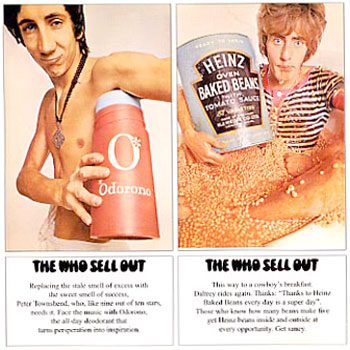 I often wish I had a chance to go back and rediscover the discographies from some of the classic groups, namely The Kinks, The Boys and The Who! Discovering Who Sell Out for the first time is a dearly missed experience.
If you are one of the lucky ones without any early Who albums, you are going to have a magnificent time checking out
My Generation and A Quick One, but you will probably have the most fun with Sell Out.
The tunes on this concept album are linked with wonderful PAMS Radio London jingles and ad spoofs that are just as memorable as the tunes themselves. Although, it's hard to compete with the scorching I Can See For Miles. Something about the way this song is framed here really makes it cook compared to hearing it on the radio or a Who's best of.
Other fun bits include scattered musical hints of the masterpiece rock opera to be, Tommy, a Townshend-led version of Hall Of The Mountain King, and a good bunch of songs that make a perfect full-listen when you've got the time.

It's available at a stunningly low price at the link below and comes in a nicely remastered package. Buy what The Who sells! You won't regret it.
Audio clip: Adobe Flash Player (version 9 or above) is required to play this audio clip. Download the latest version here. You also need to have JavaScript enabled in your browser.
"Odorono"
It's Smooth Sailing With The Highly Successful Sound Of Wonderful Radio London
Also Recommended