The Youngbloods "Earth Music"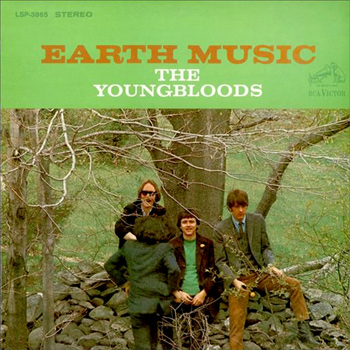 It's too bad the Youngbloods are mostly known for their classic cover version of Get Together. They are often referred to as a second rate Lovin' Spoonful too but there was so much more to the group then these generalizations would lead you to believe. They left behind three classic records, a worthwhile oddities lp entitled Two Trips and some good live recordings.
The Youngbloods were an early folk-rock group that mixed blues, folk, good-time music, country, and rock n roll into something fresh and durable. The group's members were guitarist bassist Jesse Colin Young, bassist guitarist Jerry Corbitt, keyboard player Banana Levinger and drummer Joe Bauer. Young had soulful, gritty vocals that stood out and in the group's early years both he and Corbitt split the songwriting credits. While Elephant Mountain is usually regarded as their peak (and most experimental album) the first two lp's were a dynamite mix of various roots music. The early 1967 debut album was a very consistent mix of well-chosen covers and group originals highlighted by Get Together and the classic Corbitt folk-rocker All Over The World. Earth Music came out later that year and was just as good but lacked a major hit single to propel it into the limelight.
Most of the album's tracks were originals although there were a few excellent covers that rounded the lp out. The last song on the original lp was one of the first great cover versions of Tim Hardin's Reason To Believe. The arrangement is sparse, the harmonies are wonderful and overall the Youngbloods turned in a fine countried version of this Hardin standard. Dreamer's Dream, All My Dreams Blue and Don't Play Games were great tuneful folk-rockers which were perhaps the group's strong suit. They also found time to turn in two uptempo good time tracks, Euphoria, which came from the Holy Modal Rounders and the Wine Song. Both these songs were highlights along with the Levinger penned acid garage-rocker Fool Me which featured some fine guitar work. The most significant track may have been Sugar Babe. This was one of the first great country rock standards with great lyrics and a spirit that embodies everything that is good about that genre.
Originals were off the RCA label and easy to come by 40+ years later. The best of the cd reissues was put out by BGO in 2007 and it includes the first 3 albums on 2 discs. Anyone who is into American rock n roll or true roots music should really own these albums; the Youngbloods really deserve their due.
Debut:
Audio clip: Adobe Flash Player (version 9 or above) is required to play this audio clip. Download the latest version here. You also need to have JavaScript enabled in your browser.
"All Over The World (La-La)"
Earth Music:
Audio clip: Adobe Flash Player (version 9 or above) is required to play this audio clip. Download the latest version here. You also need to have JavaScript enabled in your browser.
"Sugar Babe"

CD Reissue | 2007 | Beat Goes On | buy from amazon
]


Original Vinyl | 1967 | RCA | search ebay ]
Also Recommended