The Zombies "Odessey and Oracle"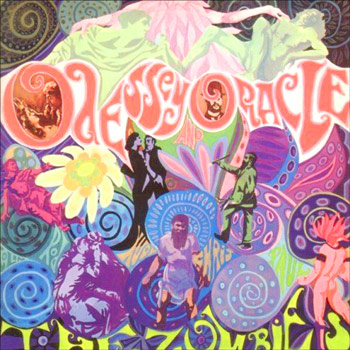 Forty years ago today, if you were listening to music, Sgt. Pepper was on the turntable. It's the album that fueled the 1967 Summer of Love and it's the true nexus of all of this music. The hard working Zombies were in the studio at this time, beginning work on their intentional swan song LP, the beautiful, unforgettable, essential Odessey and Oracle. There's no doubt these boys were spinning Lonely Hearts while they were recording at Abbey Road.
From the Mellotron, brass sections, to Argent's other keyboard work, the interesting (and warmly sparse) production overall, Sgt. Pep's impact on music is crystal clear from the very beginning; these are the days when the studio became an experimental playground. But enough about the monster. The truth is, it owes more to Pet Sounds anyways.
Care of Cell 44 is a sleeper hit, and a beautiful opener. The kind that makes you flip it back to Side 1 when it's over. The best part about the Zombies, they've got soul. This isn't an experimental record, there are rhythm & blues roots in it. Even the softer fare takes it home like in Brief Candles and Maybe After He's Gone. Tunes like A Rose For Emily (named after a short story by perhaps our best American writer) would hint at the masterpiece to come shortly after from lead singer, Colin Blunstone, whose voice is unmatched.
I wont go on much more, except to say that if you haven't heard this, you are in for a treat. Maybe you won't love it at first, but one day you will miss it dearly. It deserves a digipak reissue akin to that of the new Kinks VGPS package. Honestly, I would listen to any millisecond recorded at these sessions! Would love to see that for next year. But just get it any way you can.
Audio clip: Adobe Flash Player (version 9 or above) is required to play this audio clip. Download the latest version here. You also need to have JavaScript enabled in your browser.
"Changes"
[ Buy from Amazon
| Search eBay ]
Also Recommended