Tim Hardin "1"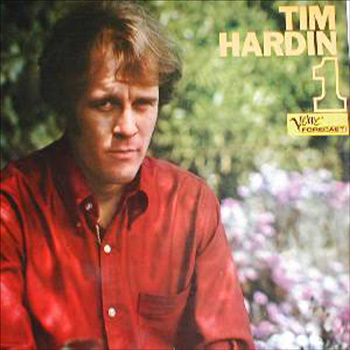 Here is one of America's best songwriters. Just ask Colin Blunstone, Gandalf, Scott Walker, The Small Faces, or the hundreds of other well known artists to have recorded his tunes. He is best known for If I Were A Carpenter, though you probably have heard many of Tim's songs without realizing it.
Tunes you'd probably know on 1? Let's see, Reason to Believe has got to be the most popular, it's a well known and beautiful song. Misty Roses you will recognize from Colin Blunstone's One Year. Never Too Far and How Can We Hang On To A Dream both show up on Gandalf's self-titled debut.
As for how Tim sings 'em, well, all due respect to his many coverers, and maybe Tim doesn't own the definitive version for any of his songs, but you need to hear this record. It's laid-back and incredibly sparse folk music with jazz drumming and delicate, stunning production. String sections, apparently added without his knowledge feature here and there, and fill some holes in this certainly understated recording. It's satisfying to identify each instrument immediately as you listen, to have them all under control, but not to need another sound.
If you are looking for a compact disc, get Hang On To A Dream, The Verve Recordings
, which has 1 and 2 as well as outtakes spread over 2 discs, a great deal (if you get it used).
mp3: Don't Make Promises
[ Buy from Amazon
| Search eBay ]
Also Recommended