Timebox "Beggin'"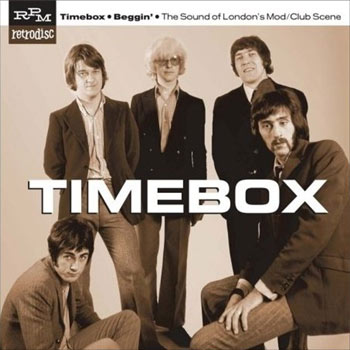 You could say Timebox got a pretty fair deal out of life when compared to other bands we feature here in these pages.  They had a top 40 hit with the Four Seasons' "Beggin'," are represented by two terrific cd reissues and their story has been told countless times by all the serious rock n roll magazines/fanzines (Record Collector, Mojo, Shindig, and Ugly Things).   Timebox's roots lay in the Take 5, a group who came from Southport, England (near Liverpool) and featured talented drummer/guitarist/vibraphonist Peter (Ollie) Halsall.
The group's classic lineup didn't really stabilize until early 1968.  By that time Timebox looked something like this: Mike Patto (lead vocals), Ollie Halsall (guitar, vibes and vocals), Chris Holmes (keyboards), Clive Griffiths (bass), and John Halsey (drums).  Prior to these personnel shifts Timbox had released three 45s in 1967.  Piccadilly issued the first two 45s which were largely instrumental efforts but in the cheerful Swingin' London style.  The A-side of the first 45, "I'll Always Love You," was an excellent pop-soul number, similar in style to the early Action or Small Faces – in other words real mod pop.  In late 67 the group switched over to Deram and released one of the jewels in their crown, a superb cover of Tim Hardin's "Don't Make Promises" backed by the soulful acid pop of "Walking Through The Streets Of My Mind."  Timebox's version of "Don't Make Promises" was rather special in that Ollie Halsall played sitar and vibes; the song was dramatically rehauled into something imaginative.  The next single was Timebox's run at the big time.  "Beggin'" topped out at 38, their highest chart entry by some distance but it was again, a great remake of the Four Seasons classic.
By this time the Patto/Halsall songwriting partnership had began to solidify into something productive.  The group began crafting records that were both experimental but also radio friendly.  Timebox needed a hit 45 for survival.  Their next Deram release was a baroque soul pop number titled "Girl, Don't Make Me Wait."  While this track was respectable enough,  it was the brilliant, swirling psychedelia of the B-side that caught my attention most.  "Gone Is The Sad Man" is comparable to a really good track off the Beatles' Magical Mystery Tour: dense, tripped out psych rock.  This single stiffed as did Timebox's next two Deram releases.  The best of these were "Baked Jam Roll In Your Eye/Poor Little Heartbreaker."  The A-side was another slice of skewed psychedelia that recounts the tale of two dozen martians who are led by Galloping Klaus (a German martian?).  It's flip side edged comfortably toward classic rock and is a fine slice of metallic angst.
After so many failures Timebox finally broke up around 1969/1970.  Out of the ashes of Timebox came Patto, the great progressive rock outfit formed by Mike Patto and Ollie Halsall.  Timebox is usually remembered as a table setter for Patto, who would release 3 classic progressive LPs in the early 70s.  RPM's Beggin' (2008-) collects all Timebox's 45s (including a rare French release) and much of the Moose On The Loose sessions.  These sessions were recorded in 1968/1969 for what would have been a projected Timebox album.  The group recorded about a dozen tracks at Morgan Studios in Willesden.  Decca heard the results and hated it.  They pulled out, leaving this unheard gem in the vaults for many years.   To my ears Moose On The Loose would have been a fascinating album, close in sound to Traffic's self-titled 2nd LP.  There's catchy psych pop ("Promises," "Tree House," and "Barnabus Swine"), effective Traffic-like forays into roots rock ("Love The Girl," "Country Dan and City Lil," and "Stay There") and blazing hard rock ("Black Dog") that point to the future direction Patto and Halsall would take with their progressive outfit.  These recordings highlight Patto's soulful vocal approach and Ollie Halsall's wizardry on guitar and vibes .  The Moose On The Loose tracks deliver the goods and prove once and for all that Timebox was one of England's great lost pop groups.
Audio clip: Adobe Flash Player (version 9 or above) is required to play this audio clip. Download the latest version here. You also need to have JavaScript enabled in your browser.
"Walking Through The Streets Of My Mind"

CD Anthology | 2008 | RPM | buy at amazon ]
Also Recommended