Tiny Tim "God Bless Tiny Tim"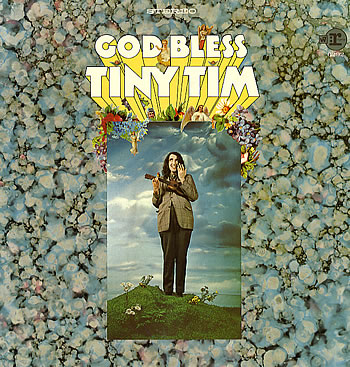 Love him or hate him, there was no one else like Tiny Tim in the late 60's.  John Lennon was reportedly a fan, and Tim was a staple on late night television of the time. In 1968 he released his debut album on Reprise- a blend of American popular songs and extreme weirdness that often veers into psychedelia.
God Bless Tiny Tim was promoted as a joke record, but beneath all the camp and novelty there are some stunning gems on this very musical album.
This is an early example of outsider music and Tim did exactly what he wanted here, aided with expert production by Richard Perry. Some moments recall the whimsy of Van Dyke Parks' debut, or even that of Randy Newman's first with dense dynamic orchestral arrangements supplementing a full band. Tracks like "Strawberry Tea" and "The Coming-Home Party" and the brilliant version of Irving Berlin's "Stand Down Here Where You Belong" are completely straightforward pop songs and would have been coveted by any self respecting psych band of the era.
The creepiness of "Daddy Daddy, What is Heaven Like?" is overpowered by Tiny Tim's sincerity. His knowledge of American musical tradition and dedication to music hall and vaudeville allow these songs to come to life in very satisfying ways. It's somewhat prophetic that in 1968 Tim was singing "The ice caps are melting…", and there is a definite vibe that Tim's not only in on the joke, but is really the one laughing here (which he does hysterically at one point).
The between-song narration occasionally stifles the flow, but it gives us a little glimpse into Tiny Tim's mindset- his intentions were clearly to open himself up to the world and put on a show; his tastes, interests, showmanship, and quirky personality are all clearly present here. It's the perfect production and it's Tiny Tim's consistently entertaining performances that really elevate this record above mere musical comedy status.
God Bless Tiny Tim is available from Rhino Handmade as a single disc or the 2006 "God Bless Tiny Tim: The Complete Reprise Studio Masters . . . And More" box set.
Audio clip: Adobe Flash Player (version 9 or above) is required to play this audio clip. Download the latest version here. You also need to have JavaScript enabled in your browser.
"Strawberry Tea"

CD Reissue | 2008 | Rhino Handmade | buy here ]


Original Vinyl | 1968 | Reprise | search ebay ]


Spotify link | listen ]
Also Recommended