Todd Rundgren "A Wizard, A True Star"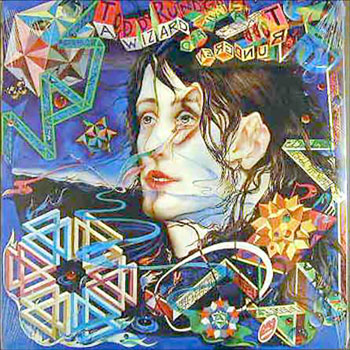 The suits at Warner Bros must've been scratching their heads with this one. Following the success of "Something/Anything
," Todd Rundgren was well on his way to becoming a superstar but he had something else in mind. The title of this album shows his wariness of his new found success. If "Something/Anything" was delicious bubble gum then "A Wizard A True Star" is delicious bubble gum with glass in it and Rundgren makes you like the taste of your own blood.
This album is the first of several of his more Zappa-esque experimental albums and an example of Todd refusing to stay in one genre (don't worry, in 9 years he'll write "Bang On the Drum All Day" which will remain on the radio until "Tubthumping" replaces it). "A Wizard A True Star", is a bit of a slap in the face to his record label and a little self indulgent at times but the bottom line is that it works. It's refreshing to look back at a time when musicians would turn their back on success and do whatever they wanted to musically before this behavior became cliche and annoying. (Clap Your Hands and Say Yeah! I 'm looking in your direction). wink
This album deserves a few listens so be patient with it, there's actually a lot of sincerity behind it and even a tribute to Motown! Your homework for the week is to listen to "A Wizard, A True Star" at least once a day in it's entirety. Who knows? You might find a hit or two….make a game out of it, whoever finds the most hits wins!!!
Audio clip: Adobe Flash Player (version 9 or above) is required to play this audio clip. Download the latest version here. You also need to have JavaScript enabled in your browser.
"When the Shit Hits the Fan/Sunset Blvd"
Wizard For Sale
Also Recommended