Tommy James "Christian of the World"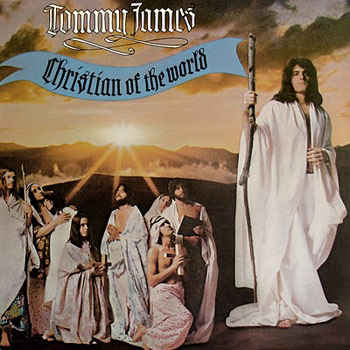 An unlikely classic if you judge by the sleeve, "Christian of the World" is a sweet slab of gospel rock from the one and only Tommy James. Tommy James and the Shondells are an obsession-worthy group, with a slew of memorable hits to their name. I beg you to listen closer next time "Hanky Panky" comes up on oldies radio – it's one of the nastier garage beats I've heard, though it still hit number one, such a killer track. A string of succeeding uptempo hits marred the group with a "bubblegum" label that Tommy hated, urging him to infuse psychedelic sounds into classics like "Crimson and Clover." His first two solo records continue seamlessly in the marvelous vintage sound of the Shondells.
Apart from Tommy's brilliant vocals, it's the production that draws me in on these records. "Adrienne," the bass is right in your face, with clacky guitars and percussion beefing up the background. This was recorded in 1971 but still has the magic 'oldies' sound. Uplifting rhythm and blues grooves like "Sing, Sing, Sing" and "Church Street Soul Revival" will appeal on the first listen. The classic driving Shondells beat that made "I Think We're Alone Now" a hit takes hold on "Sail A Happy Ship."  But "Dragging The Line" would become Tommy's biggest solo hit, for obvious reasons.
I'm not bothered by the religious bent. God is one of the main reasons for song. It's devotion, sorrow, fear, faith, and madness all wrapped up in one topic. Tommy James is the master craftsman of pop. I'm off on a Shondells bender.
Audio clip: Adobe Flash Player (version 9 or above) is required to play this audio clip. Download the latest version here. You also need to have JavaScript enabled in your browser.
"Adrienne"

2fer | autographed by Tommy James | @tommyjames.com ]
Also Recommended