Van Dyke Parks "Discover America"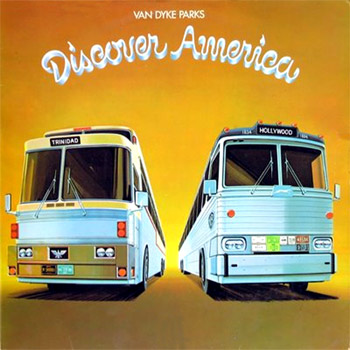 Van Dyke Parks' second album, released four years after his celebrated Song Cycle,  is an exploration of Trinidadian calypso music infused with Parks' ingeniously offbeat treatment. Like its predecessor, the record is clever, intriguing, and musically brilliant. Discover America adds an unexpected ingredient: fun.
The album opener echoes that of Song Cycle's, an intentionally degraded song clip, "Jack Palance" performed by the Mighty Sparrow himself (those interested in exploring more calypso through this angle might investigate Mighty Sparrow's Hot and Sweet, an album produced by Van Dyke Parks in 1974). Wooden marimbas, steel drums, island rhythms, and other calypso staples (supplied by the Esso Trinidad Steel Band) grace many of the tracks, but Parks maintains style thru vast string arrangements, orchestration, gratuitous experimental bits, and the vintage Americana themes examined in the lyrics.
Parks reimagines and rearranges traditional material on Discover America, as well as borrowing two killer tunes from Allen Touissaint ("Occapella" and "Riverboat") and Lowell George's "Sailin' Shoes" (Little Feat actually play on Park's "FDR In Trinidad"). The adapted material is brilliantly produced and addictingly melodic. Couple of standouts include the lilting "John Jones" and mind boggling "G-Man Hoover" (a tune as weird as it is captivating), though the entire album is consistently 5-star. A masterpiece from a master.
Song Cycle is great but not for everyone. If you're looking to play Van Dyke Parks in a public forum, this is the album. I would submit that it's catchy, fun, odd, and funky enough to be played just about anywhere. Have it with you this summer.
Audio clip: Adobe Flash Player (version 9 or above) is required to play this audio clip. Download the latest version here. You also need to have JavaScript enabled in your browser.
"John Jones"

Vinyl Reissue | Sundazed | buy sundazed ]


CD Reissue | 1990 | Warner | buy amazon ]


Original Vinyl | 1972 |  Warner | search ebay ]


Spotify link | listen ]
Also Recommended