Van Dyke Parks "Song Cycle"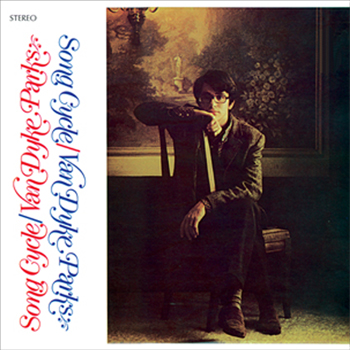 "I've been in this town so long that back in the city I've been taken for lost and gone and unknown for a long, long time." Beyond his work with the Beach Boys, Parks had an impressive and varied career, often working with a number of other groups, as varied as Paul Revere and the Raiders, The Byrds, Tim Buckley — all the way to Joanna Newsom. His marvelous solo debut, Song Cycle, is a classic and poetic tour de force.
Musically, I imagine it as a "song spiral." Motifs aren't recycled or revisited as much as they are abandoned for new ideas. The orchestration is borne of the poetry, the words directing each instrumental movement. Song Cycle is an album to let yourself soak in, to stay with for a week or even a year. I also recommend listening with the lyric sheet in hand because the layered sound of ever-changing chamber orchestra can be heavy for the mind to absorb concurrently with the poetry.
Being a fan of SMiLE most likely won't offer a free pass to Song Cycle. The album is dense and difficult to infiltrate. There are traces of inspiration here and there, possibly a glimpse to what Brian could have done with SMiLE if he'd had the encouragement Van Dyke had in Lenny Waronker.
Truthfully speaking, I can't really understand the concept behind the album. As far as I have read, the record was meant to span a breadth of American musical styles. I know the touch of bluegrass (Steve Young singing Black Jack Davy in a clip that introduces the record) and the homage to Gershwin/Showtune styles, a taste of jazz, but I just don't really get it. While I'm happy to enjoy what is still unknown to me, for I do love this album, I would be grateful to hear from those who can lighten the mystery of Song Cycle.
Audio clip: Adobe Flash Player (version 9 or above) is required to play this audio clip. Download the latest version here. You also need to have JavaScript enabled in your browser.
"Palm Desert"

Vinyl Reissue | 2007 | Sundazed | buy ]


CD | 1990 | Warner | amazon ]
Also Recommended