Velvet Opera "Ride A Hustler's Dream"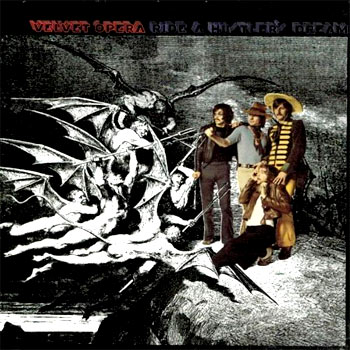 I can't even remember what made me pick this one out of the vinyl bargain bin in 1973 or thereabouts: maybe just the title. Ostensibly it was just another of those one-off albums from some itinerant musos who fall in together on their way from their previous bands to their next combos. John Ford and Richard Hudson had been the bassist and drummer for Elmer Gantry's Velvet Opera, a third-division R'n'B-into-psych-lite outfit that released a handful of singles and one unsuccessful album in 1968/69. Guitarist Paul Brett had been a latterday member of now-legendary psychedelic outfit Tintern Abbey, though not until after their sole Deram single. And the other guitarist Johnny Joyce had a background in acoustic blues and sixties folk, having worked with the likes of Davey Graham and Bert Jansch. For no obvious reason, they decided to retain the name Velvet Opera. After the commercial failure of Ride A Hustler's Dream, Hudson and Ford became the long-serving rhythm section of the Strawbs, while both Brett and Joyce developed into maestros of the twelve-string guitar, Brett also becoming a noted guitar historian and Joyce a fine luthier. All four are still active in the music business.
This seemingly inauspicious album turned out to be a finely crafted work showcasing so many musical styles that it's almost impossible to categorise. Readers of my other reviews will recognise that I admire eclectic albums by versatile acts, even though such works almost invariably fail commercially precisely because the industry can't pigeonhole them. They don't come much more eclectic than this one. While it sits chronologically more or less between late psych and early prog, it offers straight-ahead pop-rock, trad blues, electric folk, acoustic country rock, a psychedelically-treated gospellish ballad, a cod-oriental raga and a six-minute instrumental suite based on the Beatles standard "Eleanor Rigby", all but two tracks being originals and all played by a bunch of talented multi-instrumentalists. And the whole album is pervaded with a wry, playful sense of humour. These guys clearly enjoyed making this record.
There are just too many fine tracks to list, but the highlights for me are the 57-second title track which sparkles with acoustic guitar harmonics, the outwardly sloppy yet wonderfully authentic take on Willie McTell's "Statesboro Blues", the superb, intense ballad "Raise The Light" and the almost-parody of The Band's old-time country style, "Depression". Only the tongue-in-cheek "Raga (And Lime)" comes across as a shade too corny, although Richard Hudson's sitar and tabla playing on it are the real deal.
An interesting historical footnote: the Akarma CD reissue includes two bonus tracks, both fairly unremarkable pop-rock songs. The writer credit for both these is to David Cuell MacTavish, who had been the lead vocalist with . . . Tintern Abbey. The reissue rather unforgivably contains no new sleeve notes, and how these two songs came into the Opera's oeuvre is unexplained: presumably via Paul Brett. These days Tintern Abbey arouse a lot of excitement among psych fans, though little is documented on them. For the best writeup I've found on them, read on here.
Audio clip: Adobe Flash Player (version 9 or above) is required to play this audio clip. Download the latest version here. You also need to have JavaScript enabled in your browser.
"Raise the Light"
Also Recommended