Vox Dei "Caliente"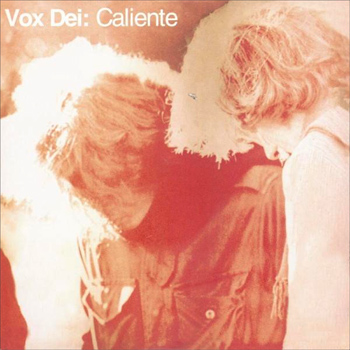 In the late 1960s there emerged in Argentina a heavy, thriving rock and roll scene, partially built by the independent record label Mandioca. Founded in Buenos Aires by a pair of radical young left-wing book publishers and inspired in part by The Beatles' Apple Records project, the vinyl put out by Mandioca was raw compared to the slick records that flooded the Argentine pop scene of the day, but it was exactly that raw, uncompromising character – combined with the label's anti-corporate approach to the music business – that helped put Mandioca's artists at the forefront of the Argentina youth movement.
Mandioca only lasted long enough to put out five long-players, but every one delivers. One of the most prominent, both in the history of the label and Argentine rock and roll in general, is the debut record by the modestly-named power trio Vox Dei, or the "Voice of God." Though the Dei would eventually find mass-market appeal with a pounding, progressive take on Catholic biker boogie, Caliente reveals a band better informed by the dusty growl of North American garage rock than the hair-brained swagger of Foghat's ilk. Mandioca's empty-pocket recording aesthetic adds further dimensions to the album's appeal, with crunchy instrumental mixes and crisp, torn-speaker fuzz tones rarely heard outside of 1950s Link Wray records. There's a real pleasure in finding home-brewed guitar sounds like these, calling to mind all the joy that is cracked, thrift-store amplifiers and cheap plastic Fenders.
And the best part here is that the music lives up to the aesthetic. Spin this one and dig the band as they immediately lash into a funky, cyclical vamp that could almost be on loan from an early Magic Band session. From this tight opening thrust, stacked percussion drops "Reflejos Tuyos y Míos" into a snarling guitar solo and atmospheric space break. The bongo drums and maracas give the cut a subtly indigenous Latin American flavor and help drive the improvised jam section home in impeccable style. The interplay between guitarists Ricardo Soulé and Juan Godoy is definitely a strength here, as in most of the album's tracks. "Cuero" starts off with the two throwing down a relentless Hell's Angel growl (arguably the album's heaviest single moment) before the razor-throated funk cuts things back to a low prowl. It's clearly these moments of laid-back clarity that allowed Vox Dei to stand above the glut of generic bar bands of the era and make their mark on music history. In fact, the album's single biggest surprise may very well be "Canción Para Una Mujer Que No Está," an otherwise unprecedented detour into cosmic, Floydian balladry, featuring some floating vocal harmonies and a barbed hook.
The unfortunate dissolution of Mandioca Records led to the disappearance of their admittedly-limited catalog from stores. As such, Vox Dei saw fit to re-record their album a few years later in order to make the songs available again. This second version, Cuero Caliente, is far less exciting than the original rendition, but today is easily avoided in favor of the real thing. Reissues of the original are only available out of Argentina, which perhaps highlights the limited success of the band – no matter how strong they were in their home country, they couldn't quite break out across the border. Said import can be scored quite easily stateside, however, so don't let that minor technicality prevent you from digging this hot slice of rock and roll from a time when rock and roll had real some serious bite.
mp3: Reflejos Tuyos y Míos
mp3: Total Qué (A Nadie Le Interesa Si Quedás Atrás)

Reissue | Sony BMG | buy here ]


Original | 1970 | Mandioca | search ]
Also Recommended