We All Together (self-titled)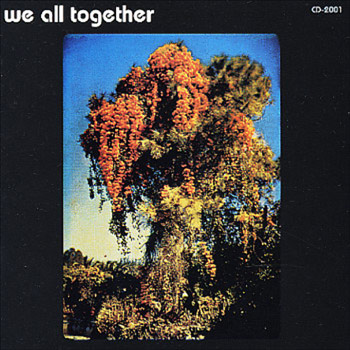 We All Together's first album came out sometime in the early 70's. The band hailed from Peru and had roots in Laghonia, who themselves released two good late 60's psychedelic albums. The music is written and sung in English and has a strong late 60's Beatles influence.
Not the most original album of the year, We All Together is very good though, including four covers of Paul McCarthy/Badfinger and ten group originals. The covers are strong including great versions of Tomorrow, Carry On Till Tomorrow and Some People Never Know.
The original compositions are what make this album worth owning. Hey Revolution sounds like a White Album era outtake with Lennonesque vocals and hard blues guitar riffs. The same goes for Dear Sally which is also characterized by some angry vocals and pounding piano that recall Lennon's first proper solo album, Plastic Ono Band. This really hints at how tight a grip the Beatle's influence was on musicians throughout the world (keep in mind the Beatles were falling apart at this juncture). It's A Sin To Go Away is the most popular song on this album due to it's inclusion on the Nuggets compilation. This South American psychedelic classic begins with Procol Harum style organ then procedes with thick fuzz guitar riffs, backward and phased guitar solos and helium high vocals.
None of the songs reach this kind of high but overall the album does not have any real weak points and is solid all the way through. We All Together released another strong album the following year entitled 2. These albums are recommended to fans of power pop and Beatles inspired rock.
Audio clip: Adobe Flash Player (version 9 or above) is required to play this audio clip. Download the latest version here. You also need to have JavaScript enabled in your browser.
"Some People Never Know"
Also Recommended