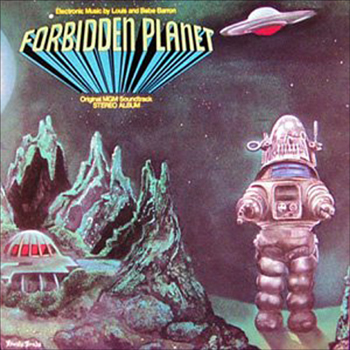 In 1956, MGM released the science fiction film, Forbidden Planet. The picture stars Walter Pidgeon, Anne Francis, Leslie Neilson and the brilliant Robby The Robot. How exciting it must have been to experience this film in the theater in 1956! Technically speaking, the film is remarkable, featuring sophisticated visual effects and a visionary musical score.
For Forbidden Planet, married NY duo Louis & Bebe Barron produced one of the very first wholly electronic movie scores. The music was created using custom electronic circuits built by the Barrons, circuitry that they claim was influenced by cybernetics.
Louis and Bebe Barron:
"In Scoring Forbidden Planet – as in all our work – we created individual cybernetic circuits for particular themes and leit motifs, rather than using standard sound generators. Actually, each circuit has a characteristic activity pattern as well as a 'voice.' "
These "cybernetic circuits" were used to build multi-musical sound layers, as well as most of the film's "inorganic" sound effects. This is a wonderful achievement: the basic connection created between the sound effects and the sound music. The SFX and the musical score are interwoven to create a neat, all-electronic union between diegetic and non-diegetic sound.
Tape echo and reverberation seem to be used widely as a sound processor within this production, helping to further a "space-like" or "far-out" atmosphere. All-together, this pioneer production is a fine example of pre-synthesizer electronic music making!
This score might not be the easiest to listen to on its own. I would recommend viewing the movie first, paying special attention to how the electronic music influences the film, and vice-versa. Later, listen to the soundtrack alone, preferably with headphones (there are some excellent uses of stereophonic sound within). I can assure you you won't be disappointed, or un-moved. This soundtrack is a must have for those interested in early electronic music and electronic music history. A memorable release!
Audio clip: Adobe Flash Player (version 9 or above) is required to play this audio clip. Download the latest version here. You also need to have JavaScript enabled in your browser.
"Battle With The Invisible Monster"

CD Reissue: 1995 | Small Planet Records | Buy From GNP Crescendo ]