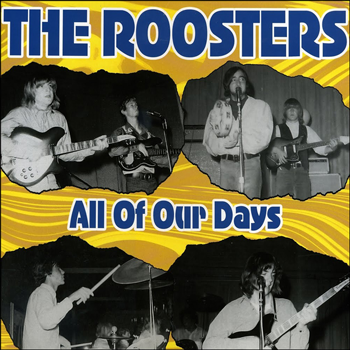 This Westchester, CA group released just three singles in the mid 60s.  The last single, released in 1967, is a disappointment (mediocre sunshine pop) in light of what came before: two of the best chiming guitar folk-rock singles of the 60s.
On these 45s the lyrics are above average, the vocals strongly recall Roger McGuinn, and the band plays with an exciting garage band energy.  "One of These Days" (Progressive Sounds of America label – 1965) is perhaps their best known single and a classic but the flip "You Gotta Run," a hybrid of Byrdsian folk-rock and British Invasion pop, is also a winner.  Their next single, released in 1966, was the excellent "Rosebush" (Enith label)  backed by another fine, hard hitting B-side, "Ain't Gonna Cry Anymore."
It's said that the Roosters were headed by lead guitarist and head songwriter Tim Ward and vocalist Ray Mangigian.  Before the Roosters, Tim Ward had played in the Avengers and then a bit later in the Five More.  In 1965, the Five More released a fine surf instrumental ("Avalanche") backed by the raving, Mersey influenced "I'm No Good."
All Of Our Days collects all of the above tracks plus the Roosters 1966 Gold Star Studio sessions.  Thankfully, these tracks measure up to their official 45s.  "She Sends Me," a dark, minor key folk-rocker is one of their finest songs while "Help Me Please" and "Deep Inside" explode with enthusiasm and strong pop hooks.  This compilation, released in both vinyl and cd format by Break-A-Way Records  is better than most "real" garage albums as it's a strong listen all the way through.
mp3: Rosebush
mp3: She sends me

Vinyl Reissue | 2011 | Breakaway | search ebay ]
Written by
Jason
| March 13th, 2014 |