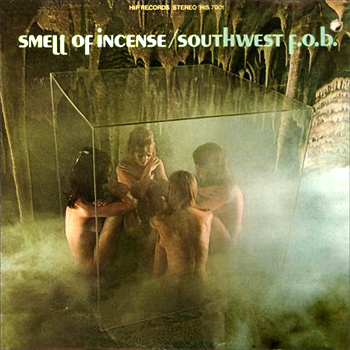 Northeast Texas heads Southwest F.O.B. can't claim the same sort of critical attention lauded on such fellow statesmen as the 13th Floor Elevators or Red Krayola, but their one record, Smell of Incense, remains an indispensable slice of Lone Star psychedelia. Much more commercially-minded than any of the aforementioned collectives, the band nevertheless reveals an exciting instrumental virtuosity and willingness to draw FM gold out of esoteric regions. Thankfully, songwriters Dan Seals and John Colley betray little of the sickening soft-rock aspirations that would later drive them into their roles as England Dan and John Ford Coley, and show some surprisingly good taste in outside material.
The F.O.B.'s heavy, barnstorming take on the West Coast Pop Art Experimental Band's "Smell of Incense" is perhaps the clearest example of the group's hip tastes and knack for redefinition; as strong as the original may be, the F.O.B. manage to take it in subtle new directions that streamline the song's eccentric appeal, essentially rebuilding the rhythm section from the ground up. Zeke Durrell's drumming really makes this recording; dig the intricacies between sections and those explosive runs following the hi-hat break just before the final chorus. You could never call the F.O.B. slick, but these cats are clearly no amateur musicians.
Another of the major highlights here is Seals and Colley's "And Another Thing," though its length, at just-under twelve minutes, may try the patience of some listeners – especially considering that about a quarter of those minutes are dedicated to a dizzying, tom-heavy drum solo. The cut never loses its drive, though; even the weird and loopy guitar improvisation in the middle manages to stick close to the song's heavy rhythmic center. If you dig the warped, astral jams off Cold Sun's Dark Shadows then there should be a lot for you to like here, though the band's lyrics are never as interesting as what Bill Miller or Tommy Hall were writing around this time. "Beggar Man" may be one of the worst offenders in this regard, a woefully naïve and romanticized view of urban poverty hinting at the flower child sentiments of the decade.
There are all sorts of notable musical flourishes across this album which stand out in the course of a listen, however, and many lay among the local horn section (itself rather unusual in these interim years between early-sixties frat rock and the approaching Chicago sound) of Dan Seals on saxophone and Randy Bates on trumpet. Bates' background in mariachi music colors his playing across the record, adding a sharp Texas accent to the band's thick polychromatic sound. On occasion Seals and Bates hit a rather tepid Los Angeles brass sound, such as on the band's melodramatic non-album recording of Paul Simon's "59th Street Bridge Song," but such moments are reassuringly infrequent and in general the two add, rather than detract, from the overall group dynamic.
Originally released on Stax's short-lived pop-music imprint Hip Records, The Smell of Incense has been reissued to great effect by the folks over at Sundazed. The compact disc release now includes a wealth of additional material, including alternate mixes (including a shortened version of "And Another Thing" for those with limited constitutions) as well as some more R&B-centric material from the band's early years as Theze Few. Highly recommended all around.
mp3: And Another Thing

Reissue | Sundazed | buy from sundazed | amazon ]


Original | 1969 | Hip Records | search ebay ]


Reissue | Sundazed | buy from sundazed ]
Written by
Nik
| January 11th, 2012 |