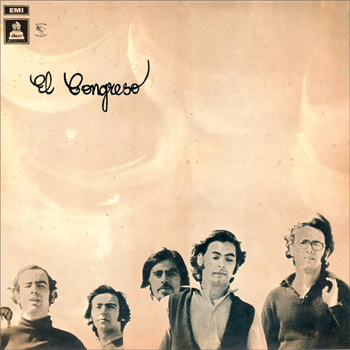 A pounding bass drum and a cyclical guitar riff slip into a swaying flute rhythm before exploding into a whirl of electricity and an explosive chorus. Calm, dynamic and controlled: thus does "Mastranzas de Noches," a psychedelic garage-folk adaptation of a classic Pablo Neruda poem, manage to provide one of the most memorable opening hooks of any psychedelic record to emerge from Latin America. This 1971 debut by Chile's Congreso is one of those rare, imperfect albums that somehow manages to hit a certain chord despite the noticeable flaws. A beautiful mix of jangling folk rock, cordillera accents and jazz touches, El Congreso would be a crate digger's holy grail if there were even the slightest chance that this southern hemisphere obscurity might make it into the bins anywhere outside its own continent. All us extranjeros will probably have to rely on Record Runner's excellent, Brazilian import-only reissue to tap into the sounds here, but don't let the difficulty of acquisition deter you from exploring these grooves. This one is worth hunting down.
Despite El Congreso's relatively even conformity of sound, there are definitely some cuts that stand out a little higher than the rest. Emerging from the record's heart, "Has Visto Caer Una Lágrima" and the heavy-battery "Mírate al Espejo" show the band at the peak of their artistic powers. The former affords us with an infectious melody and some radically grounded bass, which let the song's incisive, obtusely-political lyrics seep in to full effect as we are confronted with "una bala de cristal, un cañón de turrón, o una bomba como un bombón" ("a bullet of crystal, a gun of nougat, or a bomb like candy"). "Espejo" shows of Fancisco Sazo's soulful vocals and lets the band explode into what might be the record's most impressive instrumental performance with pounding piano and dive-bombing lead guitar. This is immediately followed by the swaying anti-aggression of "Rompe Tu Espada, Vive La Vida" ("Break Your Sword and Live Your Life"), which is worthy of classic status in pretty much every sense of the word, commercially-hampered but artistically-graced by its ragged acoustics and a somewhat fevered production.
That rough-hewn construction is beautiful, but is also the product of one of the record's flaws: the band is loose beyond all get-up, especially drummer Sergio González, whose uniquely constructed, tom-heavy runs occasionally fall out of time as the band pushes things outward. Usually this works, considering the nature of the material, but it is not enough to qualify the man for the stoned Pollockian drum solo that closes out the album's longest cut: the otherwise funky eleven minute instrumental "A.A.R." It's a rather undignified way to lead us out of the swirling flute and fuzz guitar improvisation that precedes it, and would have been better off sacrificed for the inclusion of one of the two non-album cuts that close out the Record Runner reissue. The psychedelic, wah-pedal overdrive of "Nuestro Es El Momento" would have been the worthiest replacement, introducing some tasteful, sylvan flute and violin accents to what are perhaps the band's most brilliantly claustrophobic moments.
All quibbles aside though, this one comes very highly recommended. Few records of any vintage manage to bring as much to the table as Congreso does here, and you'd be doing yourself a great disservice not to lend an ear to your South American brothers-in-arms. The band continues to perform around Chile (I managed to catch a show of theirs early last year at a political rally), albeit in a revamped lineup that veers dangerously close to middle-of-the-road jazz fusion. If you've given this one awhile to sink and are eager for more, I'd recommend turning to 1975's Tierra Incognita or 1977's similarly self-titled Congreso, which, while polishing up the band's sound, maintain most of the fundamental elements that make these earliest recordings such a distinct pleasure.
mp3: Maestranzas de Noche
mp3: Rompe Tu Espada, vive la vida

Reissue | Record Runner | buy here ]


Original | 1971 | Odeon | search ebay ]
Written by
Nik
| May 20th, 2013 |