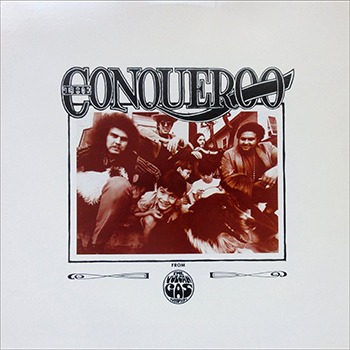 The past few years has seen some really good late 60s/early 70s music released for the first time ever – Crystal Syphon, Uther Pendragon, Bleu Forest, The Troyes and finally, Texas' Bob Brown with the Conqueroo. The Conqueroo were a well known psych rock blues band who released one sought after 45 on the Sonobeat label. Bob Brown had been floating around the Texas scene since the mid 60s folk/folk-rock revival before joining the Conqueroo in 1966/1967. His earliest music is available on the CD version of this album – both CD and LP are sold together as one package by Shagrat Records.
The bulk of this material (10 tracks on the vinyl record) comes from sessions cut between 1972 and 1973. The two most "produced" tracks, "Sycamore Street" and "Martha" bookend the album and would have made a fine single had they been released at the time. Both tracks are lost classics. In fact, all of the music featured on The Shoe Box Tapes is excellent roots rock with strong echoes of early Little Feat, the Grateful Dead circa 1970, the Band and early 70's Bobby Charles.  The influences mentioned are just a reference point – Bob Brown with the Conqueroo made fresh, original music. Brown's tremendous vocals (vocals which sound like a wild man from the backwoods) are his strongest asset but the lyrics are well written and the Conqueroo's backing is attractively loose but still hangs in the pocket quite nicely.
Key tracks are as follows: Our Great King, a whimsical backwoods rocker with a soaring bridge and bizarre lyrics. Take Me to the Country, pure country-rock a la American Beauty with a cool, extended guitar break. The hard hitting roots rocker I See Red and the sensitive folk-rock tune Pioneer's Wedding (which really reminds me of 69 era Moby Grape) are well worth a spin too. Also of note is the lone solo track (just Bob Brown and guitar) Don't Ask Me. This track, clearly one of the record's highlights, is a fine showcase for Brown's underrated vocal talent.
If you are into unknown roots rock bands or classic country-rock, this album is a revelation. The Shoe Box Tapes isn't just an archival release, it's far more than that. Bob Brown's talent is undeniable and its a true gift that this music has been made available after all these years – Thank You Shagrat Records. On about half the album, the rawest and most ramshackle of songs, (Our Great King, Take Me to the Country, I See Red, Fifteen Girls, Pioneer's Wedding and On A Summer's Evening) the group hit on something that's truly magical.  An absolute must own.
mp3: Take Me to the Country
mp3: Our Great King

CD Reissue | 2016 | Shagrat Records | buy from shagrat ]