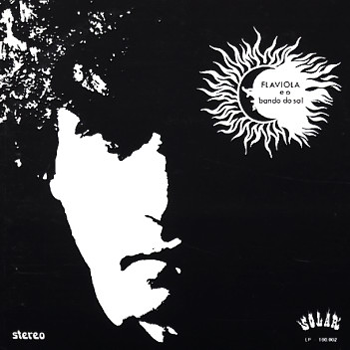 Interest in Brazil's 1960s/1970s music scene is pretty much dominated by Tropicalia these days, but behind this popular front lay a bevy of fantastic psychedelic rock albums that don't otherwise fit in with the kaleidoscopic coastal sounds of folks like Caetano Veloso, Gal Costa or Os Mutantes. One of these is the self-titled release by Flaviola e o Bando do Sol, an ethereal slice of psychedelic folk music put together by many of the same cats who made Lula Côrtes and Zé Ramalho's Paêbirú such an enduring classic.
There is a lazy, mellow vibe to the proceedings here that really puts you in a midnight, beach campfire vibe, with jangling acoustic guitars and wispy flashes of percussion bedding Flaviola's warm, reassuring vocals. Flute, dulcimer, and what sounds like a harp also make appearances here, as well as several other instruments that sound distinctly Brazilian, though I'll be damned if I can name them. The rare, rapid-fire semi-electric number "Asas" and the catchy "Balalaica" are definitely the numbers to play to Tropicalia fans, featuring the record's most energetic rhythms, with Flaviola and friends cheerily chanting out the title on the latter (whether or not the song actually makes use of a Russian balalaika I have no idea). Slower pieces like "Noite" and the autoharp punctuated "Canção de Outono" are more personal numbers, with sleepy sways to them and delicate finger picking.
The record is pretty short, at just under half an hour long, so I'll keep the review short in turn. After all, this isn't exactly an album that you can say very much about, as it's more about the magic of hearing all these simple acoustic sounds come together – there is nothing shocking or avant-garde here, simply beautiful music that is bound to stick with you long after the needle's been lifted. British-based reissue label Mister Bongo has done us all a favor by repressing this one on 180 gram vinyl, though if that's not your thing (and it should be) then they also have copies on compact disc. Don't miss this one.
mp3: Canto Fúnebre
mp3: Do Amigo

Reissue | 2012 | Mr. Bongo | search ebay ]


Reissue | 2012 | Mr. Bongo | buy here ]


Spotify link | listen ]
Written by
Nik
| June 25th, 2013 |