Zerfas "Zerfas"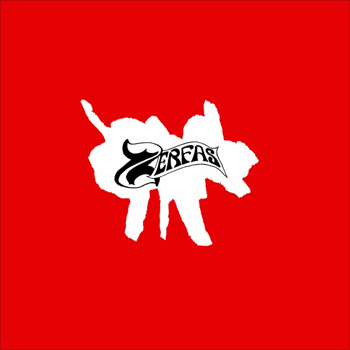 Until recently this one was completely unknown to me; I bought it after reading a glowing recommendation from a Rising Storm commenter (nice to see the process working in both directions.) Gratifyingly, it turned out to be as good as its reputation.
It's better still for being a vanity release from a bunch of unsigned but clearly precociously talented teenagers. It was lovingly cut over six months in 1973 at the tiny 700 West Studio in New Palestine, Indiana, using a four-track 3M recorder, plenty of overdubs, a lot of homemade wine and a hell of a lot of creative ingenuity. There's no need for me to give a detailed historical perspective of the band, the album or the studio here, because it's all available at the excellent website dedicated to 700 West and I couldn't improve on that compiler's excellent job.
Interestingly, the band members chose to add colour to their 1969-British-prog-rock style songs with the techniques of 1967 psychedelia, and the album stands as a fine psych/prog artefact despite being several years behind the timeline. The fun starts with "You Never Win", which opens with a fade-in backwards version of the closing fade-out – a simple but brilliant idea. "I Don't Understand" launches with an eerie half-speed recording of small children's voices, whilst the meandering instrumental heart of "Hope" is washed by shoreline effects. Much use is made elsewhere of backwards voices, backwards instruments, fade-outs, fade-ins, wild stereo panning, ring modulators, tape loops and leftfield echo effects, and even a blast from an elkhorn. However, the underlying compositions don't rely solely on these touches for interest; the eight songs, all originals, offer an engaging variety of styles from the "Born To Be Wild" knockoff of "You Never Win" through the cosmic boogie of "Stoney Wellitz" to the lush progressive soundscapes of "Hope", culminating in "The Piper" which appropriately recalls Pink Floyd's earliest stoner offerings. The playing and singing are excellent throughout, especially considering the tender ages of the musicians; Herman Zerfas's keyboards in particular are exceptional.
The word on the street among other reviewers of this album is that it's the record the Beatles might have made if they'd stuck with the psychedelic formula after Pepper. Personally, I don't buy this; these youthful compositions lack the distinctively whimsical signatures of the mature Lennon, McCartney and Harrison. To my ears there's some Floyd influence, some Grape, some Dead, some Steppenwolf, some Allmans, maybe even some Steve Miller, but really such comparisons are unnecessary. This is a fine album by a fine band in its own right, and should be respected as such.
Finally, be sure to ignore the CD release by Radioactive, which is purportedly mastered from vinyl and has a poor sound to suit. The Digipak CD from Lion Records of Germany is another bootleg to be avoided.
Audio clip: Adobe Flash Player (version 9 or above) is required to play this audio clip. Download the latest version here. You also need to have JavaScript enabled in your browser.
"Stoney Wellitz"

Vinyl Reissue | 2008 | Phoenix | buy here ]
Also Recommended