Addie Pray "Late For The Dance"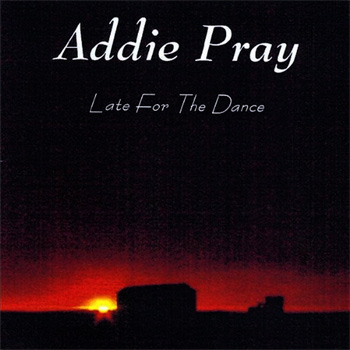 Addie Pray, otherwise known as Bill Lincoln, was part of an American (LA/Texas) rock n roll group called Euphoria.  In 1969, to little fanfare or label support, Capital Records released their explosive sole album, A Gift From Eurphoria.  This disc is commonly referred to as one of the best LPs from the period –  it's that good.  After this great album, the main members of Euphoria, Wesley Watts and Bill Lincoln, went on to several other interesting studio/side projects.  One of them was this unreleased album that Bill Lincoln quietly recorded in 1970/1971, titled Late For The Dance.
Late For The Dance doesn't have the wild guitar playing of Wesley Watts nor Euphoria's over-the-top 60s experimentation.   Replacing these sounds are quiet country-rockers and fragile, broken folk-rock songs.  It's all good listening too.  Late For The Dance's closest reference (in production, sound and style) is probably the Everly Brothers' Stories We Could Tell, a record that was also released around the same time – 1972.  One of the album's better cuts, "Kentucky", even sounds like something that would have come off Stories We Could Tell or 1968's Roots.   Two of the album's hard rocking tracks, "Train" and "Will You Miss Me?" are clear highlights that have a care free country-rock ambiance that brings Poco to mind.
The low key songs are the real meat of this fine disc.  "Free,"  "Sad Eyed Broken Man," "Wings In The Wind," "It Just Keeps Rollin," and the gospel tinged "Sail On" are all quiet pleasures – excellent tracks that are on par with any big time country-rock productions you care to name.  So while this disc isn't as experimental as A Gift From Euphoria, Late For The Dance is a really good, straightfoward country-rock record that deserved an official release back in 1970/1971.
CD Baby offers Late For The Dance in cd and mp3 formats.  If one were to jugde Euphoria on their early garage era singles, unreleased material, the A Gift From Euphoria album and the various solo/collaborations of Bill Lincoln and Wesley Watts, you could easily make a case for this group being one of America's great lost 60s bands.
Also, here's an interesting interview (via WPKN) with Bill Lincoln, regarding the Euphoria story and the Addie Pray album.  Bill Lincoln put together Late For The Dance with the help of his wife.
Audio clip: Adobe Flash Player (version 9 or above) is required to play this audio clip. Download the latest version here. You also need to have JavaScript enabled in your browser.
"Free"

Reissue | 2008 | Euphoria Records | buy ]


MP3 Album | download ]
Also Recommended