Al Kooper "I Stand Alone"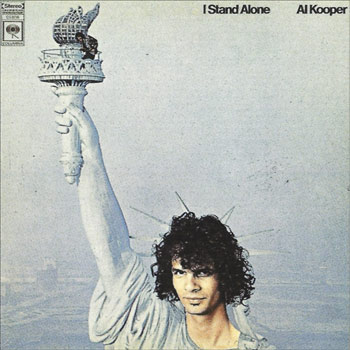 Al Kooper's debut should really be heard by more people. This record was released by Columbia in 1968, sometime after Kooper had left the original Blood, Sweat and Tears. Casual listeners know Kooper as a mid-60's Bob Dylan sideman, sometimes Mike Bloomfield/Shuggie Otis collaborator, respected record producer and keyboard player in the legendary underground New York City group, the Blues Project. Kooper left behind many fine solo records in the late 60's and 70's but I Stand Alone is something special, a disc that captures it's place and time very well.
I Stand Alone is one of those records that's inventive in a post Sgt. Pepper way, ambitious in its wide array of styles, experimental within a pop context and bound to confuse at least a few listeners. It's amazing that Kooper's solo work and the first Blood, Sweat and Tears record have never been reassessed for the great records they are. I Stand Alone is a strong listen all the way through, divided evenly between originals and well chosen covers. The disc opens with the title track, which was recorded in Nashville and is one of Kooper's signature tunes. Had this strange but wonderful Nashville blue-eyed soul hybrid been released as a single it may have had a chance at reaching the charts. About half the tracks are in a pop sike vein. Kooper does a nice job covering Nilsson's One and stretches out with the Kooperfone on an excellent reading of Traffic's Coloured Rain. Song and Dance for the Unborn, Frightened Child is somewhat similar to one of the more arty, psychedelic cuts on Blood, Sweat and Tears debut, it's an excellent, elaborate production though and proof that strings and horns can work well in the rock n roll format. Other tracks see Kooper cover classics by Sam & Dave (Toe Hold), Kenny Gamble and Leon Huff (Hey, Western Union Man) and Bill Monroe (Blue Moon of Kentucky). Blue Moon of Kentucky, which Elvis also covered in 1969, is a wild bluegrass rockabilly take on the classic that was clearly a homage to the Byrds' Sweetheart of the Rodeo.
All the covers are great and Kooper gives his own individual stamp on each song but of course it's the originals that grab your attention. The Stonesy swagger of Camille and the dreamy Impressions-like I Can't Love A Woman are killer soul songs and two of Al Kooper's best in this particular style. Another classic on the album, Right Now For You, sounds like a really good British psychedelic track with very trippy Kooperfone which sounds well ahead of it's time. This is an undeniably great album by an artist who should really be looked at with the same esteem as say a John Cale, Captain Beefheart or Frank Zappa. Al Kooper is one of New York's great musicians and his contributions to rock music have been tremendous. In 2008, Raven reissued I Stand Alone with Kooper's 1969 followup lp, You Never Know Who Your Friends Are on compact disc. Both lps are a must.
Audio clip: Adobe Flash Player (version 9 or above) is required to play this audio clip. Download the latest version here. You also need to have JavaScript enabled in your browser.
"I Can Love A Woman"

CD Reissue | 2008 | Raven | buy from Raven | buy from amazon
]


Original Vinyl | 1968 | Columbia | search ebay ]
Also Recommended