Blo "Chapter One"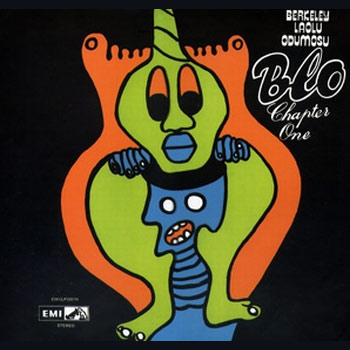 Blo (based out of Lagos) grew out of the Clusters, a popular late 60s group who made ends meet by covering Beatles and Stones tunes.  Before long people began refering to the Clusters as the "Nigerian Beatles" but the group also soaked up the sounds of Jimi Hendrix, James Brown, and local hero Fela Kuti.  To make a long story short things did not work out for the Clusters who included future Blo members Akintobi and guitarist/songwriter Berkley Jones.  In 1972 Blo made their Christmas debut at Lagos City Stadium and by all accounts blew supporting act Osibisa off stage.   Lagos City Stadium housed 10,000 vistors strong, all who were chanting "we want Blo" that day – a trio they had never seen before!
Press reports began describing Blo as Africa's first real rock band. Following the explosive live performance at Lagos City EMI issued Chapter One in the summer of 73.  At the time nothing sounded quite like it.   The album is an extraordinary mixture of funky James Brown beats and spacey psychedelic guitar jams (check out the superb instrumental "Miss Sagitt").    Album opener "Preacherman" combines both these styles into something really far out and classic.  The spiraling acid guitar solos and shuffling drum work really stand out on this cut. Brilliant.  Every song is worth listening to multiple times but I'll single out all 6 minutes of "Don't" for it's hazy, hypnotic vibe that's similiar to early Can.
Sadly, Blo never really broke out of Nigeria despite having the look, superior chops, and an excellent batch of songs.
edit: Chapter One is now available on CD through Mr. Bongo (with a vinyl edition due by the end of this month). They've also posted the full album as a video playlist here.
mp3: Preacherman

CD Reissue | 2013 | Mr Bongo | buy here ]


Vinyl Reissue | 2013 | Mr Bongo | buy here ]


Spotify link | listen ]
Also Recommended