Bobbie Gentry "The Delta Sweete"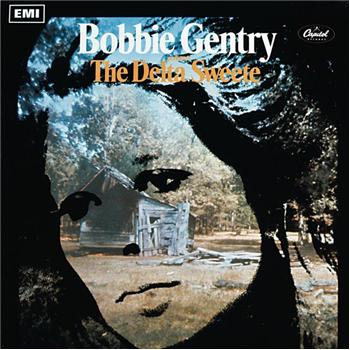 With its picture of the gorgeous Bobbie Gentry superimposed in monochrome over a falling down shack, The Delta Sweete promises the peculiarly Southern music that Gentry was known for. The Delta Sweete is Bobbie Gentry's second album, coming on the heels of the tremendous success of one of the most memorable, if bizarre, hits of the 1960s, "Ode to Billy Joe."
A loosely-formed concept album of sorts, Delta further explores the vagaries of the Mississippi Delta country  of "Ode to Billy Joe."  Here, Gentry evokes the county fairs and family reunions that would have been events during Gentry's girlhood, along with the small, everyday moments that made "Ode to Billy Joe" such a classic.
"Okolona River Bottom Band," a song about a southern talent show, is a veritable travelogue of the Mississippi Delta area, delivered in the husky voice that's Gentry's trademark.  It sounds like something from another time, or at least a lost track from one of the Band's early albums.
"Reunion" is a child's experience at that most Southern of traditions, the family reunion, complete with gossip, hair pulling, and a finger stuck in a Coke bottle.
Songs like "Penduli Pendulum," "Courtyard," and "Jessye' Lizabeth" don't lyrically reference the Delta country, but are musically evocative of the South,  from the dog days rhythm of "Penduli Pendulum" and the folk-song like structure of "Courtyard" and "Jessye' Lizabeth."
"Sermon," "Louisiana Man," and "Tobacco Road" are well-known covers, but are of a piece with the rest of the album, referencing the hellfire and brimstone of a country church service and the hand-to-mouth existence of sharecroppers and trappers.
The strength of The Delta Sweete makes the case for Bobbie Gentry as one of the most underrated and largely forgotten songwriters of the late 1960s-early 1970s era.  Gentry's episodic lyrics, referential of the South of her girlhood, married to the simple, often melancholic melodies of her music are as arresting today as when they were released, yet most of her catalogue is out-of-print in the U.S.  Even "Ode to Billy Joe," in its ubiquitousness, is often dismissed as a one-hit-wonder or novelty song.
If you appreciated the husky vocals or the unforgettable lyrics of "Ode to Billy Joe," The Delta Sweete is worth looking for.
Audio clip: Adobe Flash Player (version 9 or above) is required to play this audio clip. Download the latest version here. You also need to have JavaScript enabled in your browser.
"Okolona River Bottom Band"

Original Vinyl | 1968 | Capitol | search ebay ]


MP3 Album | download here ]


Spotify link | listen ]
Also Recommended