Book A Trip: The Psych Pop Sounds Of Capitol Records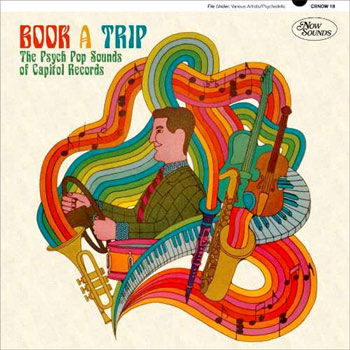 Shortly after the sonic experimentalism of Pet Sounds and Sgt. Pepper's, the rules for creating the perfect pop single changed. A catchy refrain wasn't enough– producers and musicians were now expected to use studio technology to dress up pop hooks with trippy effects, unconventional instrumentation, and multilayered harmonies. Book A Trip: The Psych Pop Sounds Of Capitol Records collects twenty-six singles that attempted to capture some of that studio magic.
As is to be expected, there's a distinct Beatles/Beach Boys influence throughout the tracks. Although a few betray perhaps a bit too much influence (such as The Tuneful Trolley's magical mystery tour through the Fabs' 1967 recorded output in "Written Charter"), the majority of the acts comped here took the newfound sense of musical adventure as a starting point and charted their own path. I can't think of a better example than the anything-goes production of Tim Wilde's "Popcorn Double Feature," which not only brazenly mixes dit, dit, dits and bah, bah, bahs, but throws in an electric sitar breakdown followed by an exuberant trombone solo. And did I mention the random bubble sounds?
There's a wide range of psych pop styles represented among the twenty-six tracks, including attempts by decidedly non-groovy Capitol acts such as The Four Preps and The Lettermen to update their sound. Yet even the more conventional numbers contain surprises in their arrangements and are worth a listen, especially Leon Russell's Pet Sounds influenced orchestration on the Preps' "Hitchhiker." On the whole, Book A Trip is loaded with fine examples of psych pop and sunshine pop, with many tracks containing elements of both genres– you won't find any bad trips here.
A personal favorite is the faux-British psychedelia of The Act Of Creation's "Yesterday Noontime," its insistent percussive riff competing with undulating peals of guitar and lysergic backing vocals. Other high points include the handclaps and soaring harmonies of Fargo's "Robins, Robins," the pumping harpsichord of Stained Glass's "Lady In Lace," and the quirky vaudeville of the Sidewalk Skipper Band's "(Would You Believe) It's Raining Flowers In My House."
Moorpark Intersection's sole Capitol single (co-produced by David Axelrod) is another highlight. "I Think I'll Just Go And Find Me A Flower," ambles along on a sunny acoustic riff, nodding to the country-psych direction the band would later follow as Morning, while the flip, "Yesterday Holds On," is a much heavier slice of orchestral psych pop.
With Book A Trip, Now Sounds has put together a first-rate compilation, featuring pristine sound and detailed track-by-track information– the CD graphics even replicate the classic Capitol "swirl" 45 label. Whether you're new to the genre or a sixties pop aficionado, there's much to recommend here.
Audio clip: Adobe Flash Player (version 9 or above) is required to play this audio clip. Download the latest version here. You also need to have JavaScript enabled in your browser.
"Yesterday Noontime"

CD | 2010 | Now Sounds | buy here ]
Also Recommended