Brinsley Schwarz "Silver Pistol"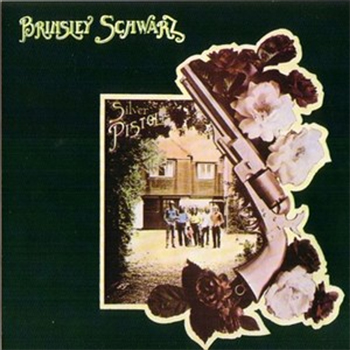 This was the Brinsley's first acknowledged classic, Silver Pistol, released in 1972. To me, Brinsley Schwarz is the best rock music Nick Lowe has ever made though I know many new wave fans will disagree with this statement, favoring his 78-79 solo material.
The Brinsley's began making records in 1970 with more of a rambling late period psychedelic jam band approach. Silver Pistol is when the band really came into their own with some outstanding original material from Nick Lowe that recalled the intimacy of the Band. Though unlike the Band, many of these songs have more of a reckless punch and new guitarist/songwriter Iam Gomm contributes four great, driving country-rockers to this impressive set.
While 72's Nervous On The Road is usually cited as their finest work, I think Silver Pistol is just as good with creative songwriting and wonderful songs. Tracks like Merry Go Round have a warm downhome feel with jangly McGuinn style rickenbacker guitar chords and prominent Garth Hudson influenced organ playing. Egypt even seems like it could have been a lost outtake from the first couple of Band albums, it's that stellar and full of cerebral organ work. In Dry Land the band really nails down the American country-rock sound while sounding individual and completely original. Another song, Nightingale is a very beautiful, personal statement that features accordian and beats most U.S. bands in the Americana sweepstakes.
Following the Silver Pistol lp, Brinsley Schwarz made three other great albums and eventually broke up around 1974-1975. They, along with Eggs Over Easy, are considered the founding fathers of England's early 70's pub rock movement. These groups played an English version of U.S. country-rock throughout England's numerous, local pubs. I think pub rock can be a little more aggressive at times then U.S. country-rock and most of these groups found their main inspiration from the Band. It's also important to note that on Silver Pistol the Brinsley's cover two Jim Ford tunes. Jim Ford released one very good solo album in the early 70's and during the Silver Pistol sessions was a key influence to Nick Lowe and Brinsley Schwarz.
In 2004, BGO (Beat Goes On) reissued the excellent Silver Pistol along with Please Don't Ever Change (another good one). These albums are essential to fans of roots music and country-rock and have a ragged charm that's all their own.
Audio clip: Adobe Flash Player (version 9 or above) is required to play this audio clip. Download the latest version here. You also need to have JavaScript enabled in your browser.
"Nightingale"
[ Buy from Amazon | Search eBay ]
Also Recommended