Buck Owens And His Buckaroos "Bridge Over Troubled Water"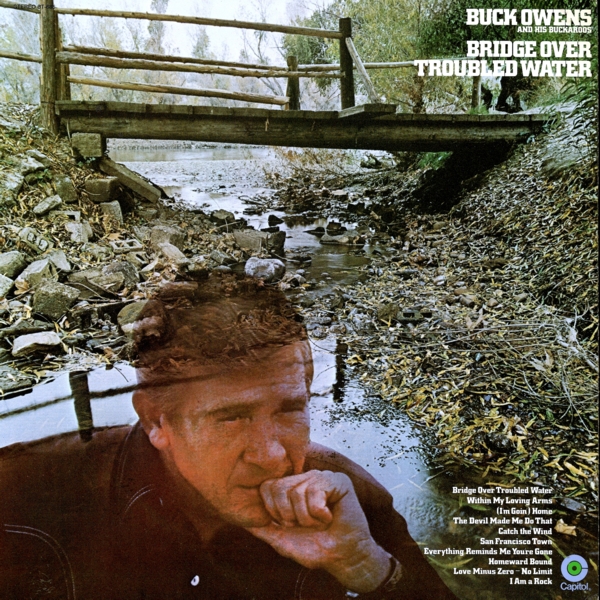 Bridge Over Troubled Water (Capital, 1971) wasn't Buck's first foray into rock n roll music.  In 1957 he cut a handful of rockabilly sides under the name Corky Jones – and good sides they are!  Buck had once vowed to "sing no song that is not a country song" but in 1965 he released a great charging version of Chuck Berry's "Memphis" on the classic I've Got A Tiger By The Tail lp.  Some fans felt that he had broken his pledge by covering "Memphis" but Buck didn't see it that way: "I see Memphis as being rockabilly.  Listen to the lyrics….If they're not country lyrics….the melody – if that ain't a country melody…." I've Got A Tiger By The Tail along with 61's Sings Harlan Howard and 66's The Carnegie Hall Concert are usually what fans cite as his best ever lps.  These recordings went a long way in establishing the Bakersfield Sound and making Buck Owens a household name.
Bridge Over Troubled Water is not on par with the above classics.   It's a good record though with some interesting experiments that see the Buckaroos trading in their beloved Telecasters for an acoustic folk-rock sound – though country music is still their foundation.  The album is roughly divided between covers of current rock standards and Owens originals.  The production is beautiful, the guitar work is stellar, Buck is in great voice and the harmonies are nothing short of amazing.  There's the occasional organ or Moog but for the most part the arrangements are sparse and the playing is less aggressive when compared to earlier records.  My only complaint is the weak cover of Simon & Garfunkel's "I Am A Rock" and the album's short running time, which hovers around the 25 minute mark.  Renditions of the title track, "Love Minus Zero," "Homeward Bound," and "Catch The Wind" are suprisingly good.  "Catch The Wind," with its droning Moog and angelic vocals is so good it may even surpass the Donovan original.    Buck's own material blends nicely with the above mentioned tracks, making this a strong listen all the way thru.  All the original material is good, though "Within My Loving Arms," "The Devil Made Me Do That," "San Francisco Town," and "Everything Reminds Me You're Gone" stick out for their contemplative approach, brittle acoustic guitars, and gorgeous harmonies.  Throughout the album Buck's vocals are world weary, it's a quality that makes this record special.
Buck would take some heat from the C&W squares for revamping his style and covering current rock n roll songs.  But the C&W crowd would prove to be wrong over time as Bridge Over Troubled Water reeks class and Bakersfield sophistication.  It was this willingness to experiment that made Buck and his group so great and pioneering.  This open-minded approach has made the Buckaroos music age so well whereas many of their contemporaries sound dated and hokey.  In 2004 Sundazed released this solid album on cd, it's certainly well worth a spin for fans of country-rock.
Audio clip: Adobe Flash Player (version 9 or above) is required to play this audio clip. Download the latest version here. You also need to have JavaScript enabled in your browser.
"Within My Loving Arms"

CD Reissue | 2004 | Sundazed | buy from sundazed | amazon ]


Original Vinyl | 1971 | Capitol | search ebay ]
Also Recommended