Buck Owens and his Buckaroos "Carnegie Hall Concert / In Japan!"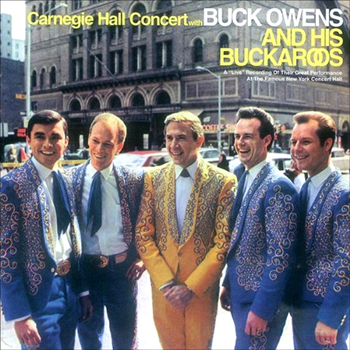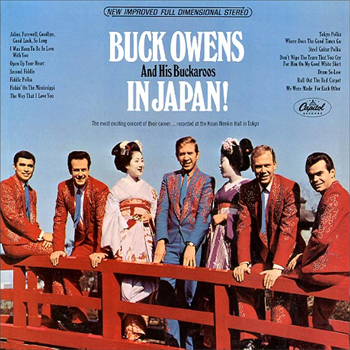 It's certainly not a lost gem or unknown by any means. In fact this one is considered one of the best live country albums of all time,  holding the #1 country album slot for five weeks in 1966, and is often cited as Buck and his Buckaroos' greatest record. But I'll be damned if the Carnegie Hall Concert doesn't have its place on this page (especially in concert with its sister album In Japan!) as a great live document of a great band in its own right, but mostly as a model for all the country rock that would closely follow in the steps of Buck's classic Bakersfield Sound, right down to the Nudie suit.
So what is it about Carnegie Hall that's makes it worth hundreds of listens? Sure, it's filled with corny bits that don't necessarily make the transition to audio, Buck always playing the consummate ham ("pure pork"), and manages to condense a quantity of hits into medleys where any would serve to stand on its own.  Just, dang me, find me a Buck tune that sounds better in the studio than on Carnegie. We're talking about a band at the top of its game, tighter than a tick, in the prime of its prime. Led by Buck's right hand, "Dangerous" Don Rich, who's simple licks would come to define Telecaster country guitar, "Tender" Tom Brumley on pedal steel, "Dashing" Doyle Holly on bass, and "Wonderful" Willie Cantu on the drums, the Buckaroos never had a better lineup. And yet they play it so straight: no virtuosic runs or fancy orchestrations, just pure, honest electrified country.
The classic self-titled instrumental "Buckaroo," covered later by the Byrds, Burritos, and Leo Kottke, is evidence enough of their significance to the sound of late sixties country rock. Don's high harmony reinvents "Together Again," rendering the studio version limp in comparison. "Love's Gonna Live Here," "Act Naturally," "Tiger By The Tail," and one of Buck's latest #1 singles "Waitin' In Your Welfare Line" get a full, lively treatments. The medley's serve as a great introduction and reminder to Buck's library of classic tunes and move the record along well in contrast to wacky comedy stuff like "Fun 'N' Games with Don and Doyle" and "Twist and Shout." The Sundazed reissue even restores the full concert so not a moment is cut (like the original LP).
Amazingly, not a single track is repeated on live follow-up In Japan! While not loaded quite like its older sis, this is more or less a continuation of where we left off (only replacing Doyle Holly with Wayne Wilson on bass), the band every bit as good, and featuring lots of Buck's less appreciated classics. My favorites obviously include "Open Up Your Heart," the ungrammatical "Where Does The Good Times Go," and the very sweet "We Were Made For Each Other." Also the ballad, "I Was Born To Be In Love With You,"  is quite lovely and for some odd reason appears only on this album.
Most of anything, these records are plain fun. The way Buck will introduce a tune saying "this one's called…" and launch into the chorus; the perfect timing and interplay of a band that wouldn't even think to rehearse. You can just hear the smiles on their faces, even the audience.
mp3: Buckaroo
mp3: I Was Born To Be In Love With You

Original | 1966, 1967 | Capitol | search carnegie | search japan ]


Reissue | 2000 | Sundazed | buy carnegie | buy japan ]
Also Recommended