Chris Darrow "Artist Proof"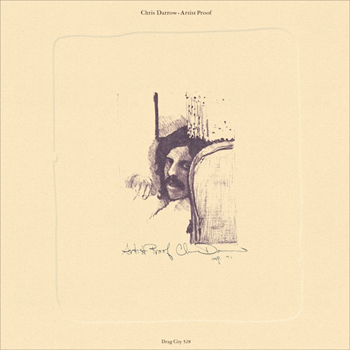 Artist Proof was Chris Darrow's first solo LP after stints with legendary psych/roots band Kaleidoscope, the Nitty Gritty Dirt Band and underrated country outfit the Corvettes. For my money this is his best solo disc and while it may not be a lost classic, Artist Proof is certainly excellent, a minor gem of country-rock Americana. What makes Artist Proof significant are not only a great consistent set of songs but what it represents in the evolution of this genre. The album was created at a pivotal point in time when country-rock was about to become more polished and commercial thanks to the likes of the Eagles and the Pure Prairie League. Luckily, Darrow made a record that's rough, passionate and unpolished, recalling a number of the early LA country rock greats: Poco, the Flying Burrito Brothers, Nashville West and the Nitty Gritty Dirt Band. It's one of the last great records in the LA country-rock style by a man who was an early staple on the scene.
All the music on this disc is first rate and well played – Chris Darrow is fantastic. My favorite tracks are a rocking version of Cajun classic Alligator Man, the gorgeous mandolin picking on Lover Sleeps Abed Tonight and the swampy americana of The Sky Is Not Blue Today. This last track is one of several tender, singer-songwriter styled numbers on the album and a superb piece of music. Darrow's vocals aren't as strong as Gram Parsons but that doesn't matter as they fit this style perfectly. Beware of Time (originally recorded as a single by the Corvettes in 1970) and Shawnee Moon are highlights that would have sounded perfect on the radio – they have commercial hooks and attractive melodies. Darrow's key skill is his ability to blend genres naturally.
Drag City reissued Artist Proof a few years back so it's easy to find and inexpensive. Originals were pressed by Fantasy back in 1972. Fans of classic country-rock sounds will be pleasantly surprised with this LP – a must own.
mp3: Shawnee Moon
mp3: The Sky is Not Blue Today

LP + CD | buy from Drag City ]
Also Recommended