Chris Darrow "Chris Darrow"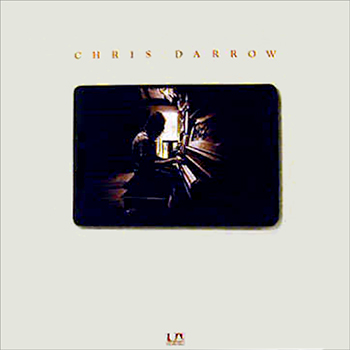 By the time Chris Darrow entered Trident Studios in London to record his self-titled debut solo LP, he was already an accomplished, respected, and in-demand musician. As a member of the wonderful genre-bending Southern California psych band Kaleidoscope he had already contributed his talents to their first couple of albums, 67's Side Trips and 68's A Beacon from Mars–two excellent psych-rock albums that were some of the first to incorporate world music forms from all over the globe. After leaving Kaleidoscope he was recruited by The Nitty Gritty Dirt band, playing on 68's Rare Junk, 69's Dead and Alive, and 70's Uncle Charlie and His Dog Teddie. After leaving The Nitty Gritty Dirt Band he found work as a session musician–playing guitar, banjo, fiddle, dobro, mandolin, bass, keyboards, and singing on a handful of wonderful albums, including Hoyt Axton's Joy to the World, James Taylor's Sweet Baby James, John Fahey's Of Rivers and Religion, and more. Chris Darrow had established a reputation as a musical force to be reckoned with.
Darrow had already released his first self-titled solo LP in 1972 with Artist Proof, and his sophomore LP was released by United Artists in 1973. With a sound heavily influenced by and rooted in the traditional American musical forms Darrow loves so much–country, blues, jug-band, cajun music, bluegrass, and fiddle tunes–Chris Darrow comes out of the gate showcasing a list of influences nearly as long as the list of instruments which Darrow had already mastered. However, like a master craftsman he weaves it all together to form a musical tapestry of his own creation, allowing all the elements to work together seamlessly and create a cohesive and creative whole. Perhaps his greatest achievement with this album was the way in which it predicted the shift towards the more complex and genre bending approach we would come to see undertaken by singer songwriters in the years and decades following its release.
The highlight of the album, opening track "Albuquerque Rainbow", sounds like that great lost "Exile On Main Street" outtake with Gram Parsons singing lead that we've been praying for all these years. Opening with just Chris and his guitar, this song is about as close to a perfect combination of country and rock as this record contains, matching tasteful pedal steel ornaments on an acoustic guitar driven tune with a catchy hook and Allman Brothers influenced harmonized guitar leads. With its easy going feel-good early 70's rural vibes and upbeat tempo this song,which makes for a perfect addition to any road trip soundtrack, will not leave your head soon after you hear it.  "Take Good Care of Yourself", with some exceptionally fine old-timey fiddling, anticipates the bluegrass/reggae sound that fellow Kaleidoscope member David Lindley would hint at on several of his future solo releases.
"Whipping Boy", another Darrow original, is a blistering blues rocker with raunchy slide guitar and a driving rhythm that features some extra funky bass playing. When Darrow twangs out Listen here/I don't care/I don't wanna be your whipping boy he sings it like he means it and lays it on thick. Darrow's voice really shines and imbues the song with a level of legitimacy and depth–Darrow didn't just take inspiration from traditional American music; he played it, loved it, and most of all felt it. "Hong Kong Blues", a Hoagy Carmichael cover, ventures into more typical singer songwriter territory with just Darrow's voice and a piano accompaniment that sounds a lot like "Sail Away" era Randy Newman. It serves as a nice contrast to the other tracks, asking the listener to take a seat and enjoy the story. "Faded Love" is a beautiful, wonderfully written tune that sounds like an a cappella Appalachian ballad that's been graced with subtle instrumental shades of the far east. A lone forlorn flute lilts above the track, singing the bittersweet song of a broken heart. "To What Cross Do I Cling" kicks off with a riff straight from the swamps of bayou country, bringing a much appreciated, laid-back Excello vibe to the tune that could easily satisfy any gumbo cravin'. Add some Clarence White influenced tele twangin' and you've got one smoking tune that goes down like a good shot of Whiskey–warm, easy, groovy.
The other standout track among the set is Darrow's version of the bluesy old-timey standard "Don't Let Your Deal Go Down". This remake of the traditional American tune ends up sounding like Crazy Horse jamming with John Hartford–peppered with bluesy guitar runs, twangy telecasters, and dueling old-timey fiddles. The end result is wonderful, one of the best versions of the tune around. Coming up with a creative and compelling way to present traditional tunes can be tough for a rock musician, but Darrow's work-up of the song is as fresh as the water from an Appalachian spring.
Of course echoes of Darrow's previous groups abound–the old-timey depression-era string band send-up "We're Living On $15 A Week", which calls to mind  The Jim Kweskin Jug Band and their rural romps, makes use of one of Kaleidoscope's favorite tropes. The end result sounds somewhat similar to "Baldheaded End of A Broom" off of A Beacon From Mars or any number of tunes by The Nitty Gritty Dirt Band. Unfortunately the album's closing track "That's What it's Like to Be Alone" leaves a bit to be desired. The track kicks off with a harpsichord and ends up sounding like a mutant attempt at baroque pop that falls just a bit short of the mark.
All in all Chris Darrow is an excellent albeit overlooked country-rock record from the heart of the genre during its heyday. It is also a unique and compelling artistic statement from a wonderfully gifted musician, and stands up as one of the most interesting singer-songwriter LPs of the era. Musically speaking, a wonderful point of comparison to Chris Darrow would be Dillard & Clark's excellent first LP The Fantastic Expedition of Dillard and Clark, the main difference being (aside from the fact that Darrow was operating as a solo musician and D&C as a duo) that Dillard & Clark created a country-rock classic by coming at the genre from the angle of bluegrass, while Darrow created his own unique country-rock statement coming largely from the angle of blues and pre-bluegrass old-timey American music. The more stripped down intimate sound of old-time and blues music lends that feeling of intimacy and suits Darrow's songs and voice. It sounds as if his intonation and diction had been reached by years of singing traditional American songs, including a cappella mountain ballads, southern blues, jug band tunes, gospel tunes, traveling medicine show music, bluegrass and folk. Although many of the tunes on Chris Darrow contain full band arrangements, featuring contributions from a handful of wonderful musicians (including members of Fairport Convention), ultimately it is Darrow you feel the connection with–and that's the way it was intended to be.
Sadly, copies of the album didn't fly off the shelf like hotcakes. Maybe his music was too ambitious, too richly textured and multifaceted for some fans of the emerging singer-songwriter genre that was streaming out from the West Coast, dominating the FM airwaves and selling millions of pairs of bootcut jeans. Darrow soldiered on, providing a fine follow-up, Under My Own Disguise, that was even more deeply rooted in bluegrass and old-time music. He continued working as a session musician, playing on fine albums of all shapes and size, even hitting the road to backup players such as Linda Ronstadt and John Stewart, pausing every now and then to release an album of his own material. In 1994 young friend and neighbor Ben Harper released a cover version of "Whipping Boy" on his album "Welcome to The Cruel World" that brought Darrow and his tune a little extra attention. In 2009 Everloving Records out of Los Angeles, California reissued remastered versions of both Chris Darrow and Under My Own Disguise in a limited edition deluxe box set that includes a 48 page book and 180 gram vinyl along with copies of both albums on cd as well. This is the set to get as the packaging and presentation really does justice to the material. If you're low on dough, a BGO twofer is available that includes both of the albums conveniently placed onto one compact disc. Enjoy
Audio clip: Adobe Flash Player (version 9 or above) is required to play this audio clip. Download the latest version here. You also need to have JavaScript enabled in your browser.
"Albuquerque Rainbow"

Vinyl Box Set | 2009 |Everloving Records | buy here ]


CD Reissue |  2008 | Beat Goes On | buy here ]


Original Vinyl | 1973 | UA Records | search ebay ]
Also Recommended